Volkswagen reveals new electric ID.5 SUV

Featuring an upgraded infotainment system and an impressive range, Volkswagen tempts us with its latest electric SUV based on the MEB platform.
Unless you've been driving around oblivious to what is passing your driver door window recently, it will be apparent that SUVs are certainly a thing. They are everywhere, proving that an SUV is probably one of the most popular choices of vehicle on our roads today.
So, it seems Volkswagen hasn't let this opportunity in popularism pass it by and instead has decided to whet the EV driver's appetite by flaunting its latest SUV around.
The ID.5 bears a striking resemblance to the ID.4 on the outside, which is no surprise given they share the same MEB platform underpinnings. The main difference here is more sporty styling thanks to the sloped coupé roofline. In many ways, this is VW's answer to the Audi e-tron and e-tron Sportback.
There is just the single battery option, though, at 77kWh which is good for around 323 miles (WLTP) on a single full charge.
There are three variants of ID.5 for SUV lovers to drool over starting with an entry-level Pro model, followed by the Pro Performance and "hot" GTX for you which features front and rear motors for extra performance though range will take a hit.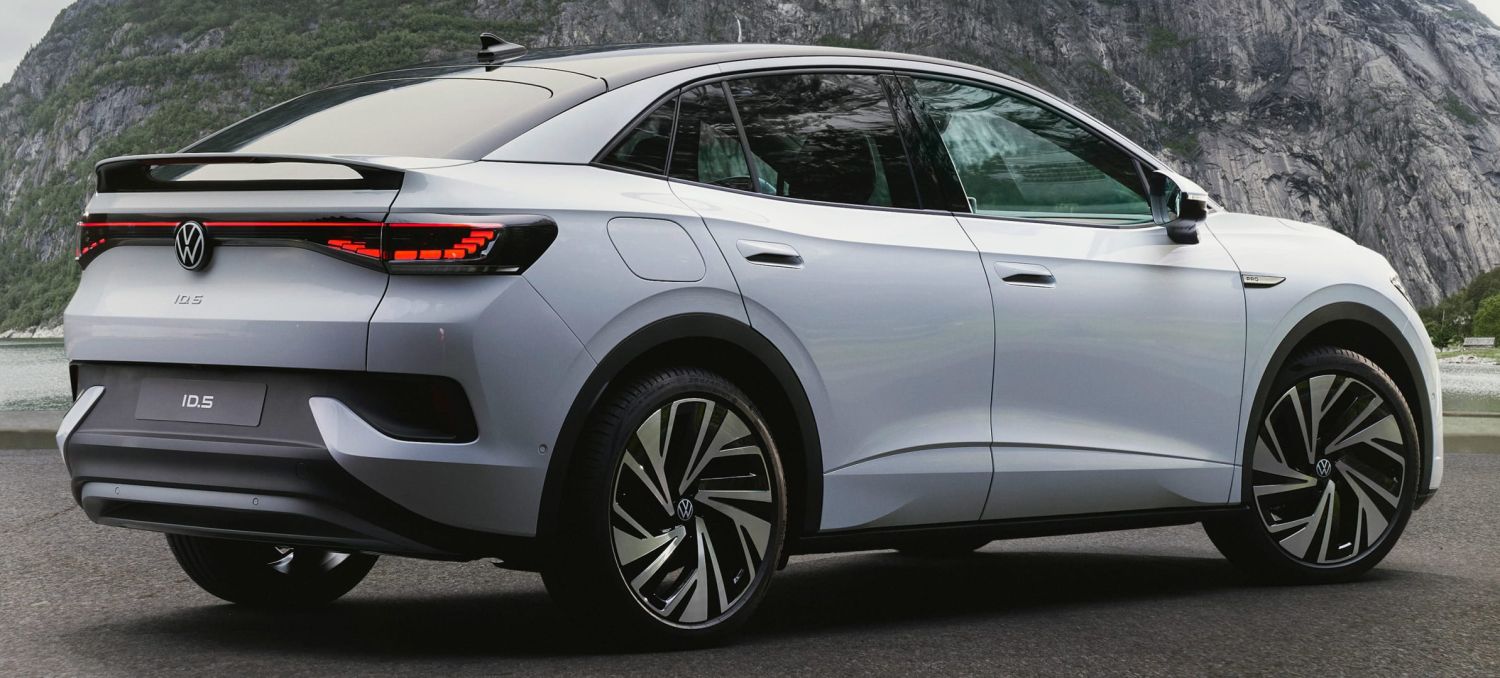 Sporty performance
The entry-level ID.5 ticks along with its single 172bhp electric motor, and you can expect to go from a standing start to 62mph in a little over 10 seconds. However, the Pro Performance version offers a little more grunt with 201bhp. This motor knocks a couple of seconds off to reach 0-62mph in 8.4 seconds.
But plump for the GTX and it'll do 0-62mph in around six seconds. That is thanks to the 295bhp offered by the front and rear motors, but it will cost you 19 miles of WLTP-rated range.
If you're using a public DC rapid charger, you can expect to charge from 10-80% in around 30 minutes if plugged into a unit capable of 135kW output. Plugged into a dedicated home wallbox, the ID.5 will take closer to 11 hours for a full charge.
Every model of ID.5 is equipped with a 12-inch infotainment touchscreen and digital instrument panel. Plus, the new electric SUV will be the flag bearer of Volkswagen's updated infotainment software, which is now quicker to react to any inputs.
It appears prices for the Volkswagen ID.5 electric SUV will kick-off at around £47,000 and should be going on sale in the UK during the spring of 2022.