Striking look for Nissan's new electric SUV – the 310-mile Ariya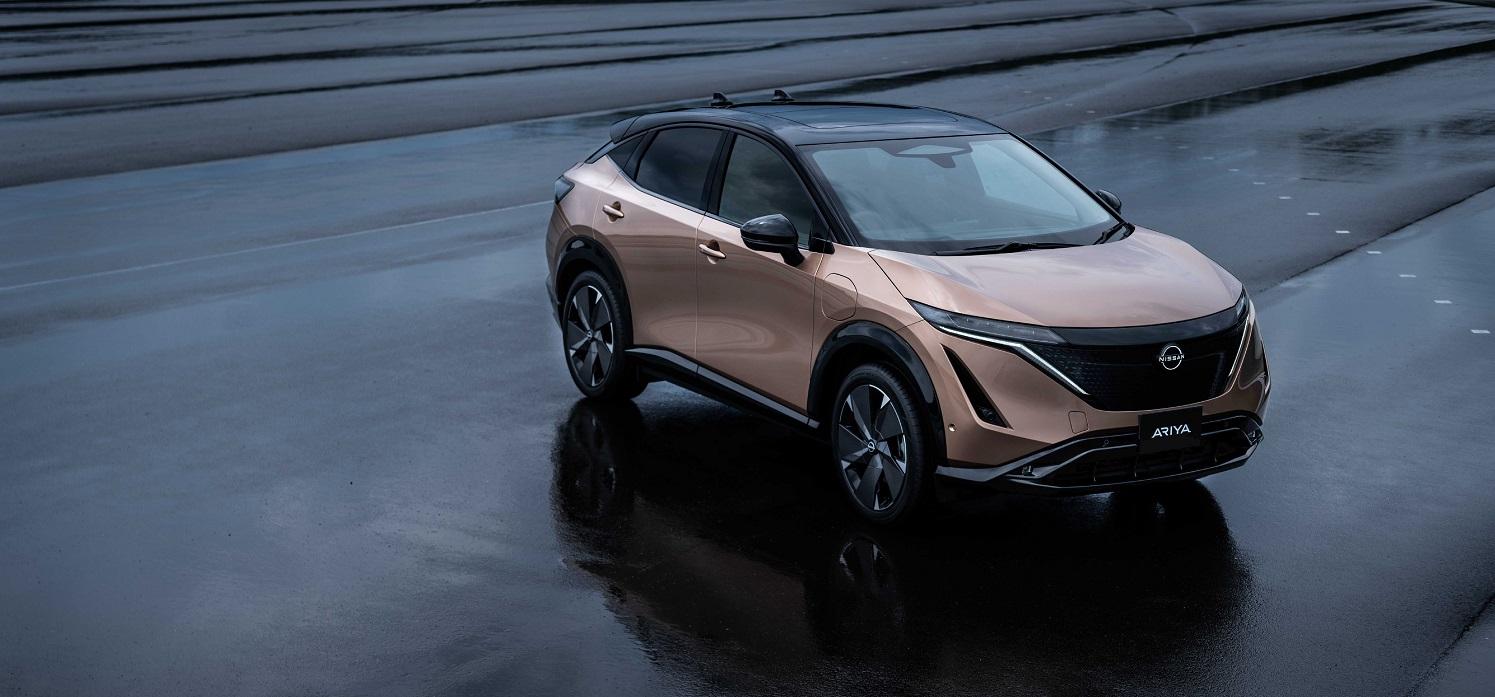 Nissan has finally shown off its second brand new electric car, the Ariya, which has a range of 310 miles and features coupe crossover styling.
What is it?
The Ariya is only the second fully electric vehicle to come from Nissan since the Leaf debuted way back in 2010. It comes at a crucial time for Nissan, which says the Ariya will define a "new era" for cars combining electric drivetrains and seamless Artificial Intelligence integration.
Key Features
The Look
Compact crossovers, or SUVs, might not be everyone's cup of tea, but credit to Nissan – the Ariya is one of the more striking SUV-type vehicles we've seen in a little while.
Sharp, horizontal lines give it a much more streamlined appearance and the front end features a bold, swooping, closed-off grille that also includes an LED-lit Nissan logo. And by the way, Nissan are calling the "grille" a "shield" – for the EV era.
Nissan says the design is based on "Timeless Japanese Futurism". We're certainly not design experts, but we can see what they mean. There's a subtle yet bold characteristic dotted throughout, but the exterior and interior retain a reserved quality about them.
The Ariya sports five-spoke, 19-inch aluminium wheels but you can also get 20-inch wheels as an option.
Where are the buttons?
If you are screen-phobic, have no fear as there is some physical interaction to be had inside. You get the usual steering-wheel controls, 12.3-inch digital driver display and 12.3-inch centre display which both form a singular unit across the dash.
The minimalist dash really stands out here and reminds us a little of the Honda E's dashboard. That's only a good thing as far as we're concerned, but purists may be concerned about the flush "buttons" here. Yes, they are capacitive touch controls, but they include haptic feedback so you're able to feel your way through.
It's nice to see dedicated controls for climate control and so on, but only time will tell how the touch controls on the dash fare.
Performance and range
There are five core models in the Ariya range.
The base option is a 65kWh two-wheel drive model with a range of 223 miles. If you want to go even further, you can also get a 90kWh Ariya with up to 310 miles of range. Both have around the same power output and a 0-62mph time of about 7.5 seconds.
There are three four-wheel drive options. The 65kWh Ariya all-wheel drive has slight impact on range compared to the two-wheel drive version, coming down to 211 miles. Although, performance is increased here from 300Nm of torque to 560Nm – you also get a 0-62mph time of 5.9 seconds.
The larger 90kWh all-wheel drive Ariya offers a boost to the range at 285 miles as well as performance which increases to 600Nm of torque and a 0-62mph time of 5.7 seconds.
Or, you can upgrade to the 90kWh Ariya Performance. Here you sacrifice a bit of range at 248 miles in exchange for additional power and a 0-62mph time of 5.1 seconds.
Got all that? Good.
Charging
In terms of charging, the smaller 65kWh battery packs versions can make us of a standard 7.4kW home charge point which should take about 8 hours to charge from empty to full. The larger 90kWh AWD versions can take advantage of 22kW three-phase charging, so you could expect a full charge in under 5 hours.
Although, you will need access to a three-phase AC supply. Check out our guide on three-phase charging to see if you can have it and if it's worth it.
All models can access a CCS public rapid charge point up to an output of 130kW. So, an 80% charge in around 30 minutes we expect.
If you want to compare home charge points, then be sure to check them out here.
More details on the Nissan Ariya pricing and availability as soon as we have it.