New electric Fiat 500 to start from £19,995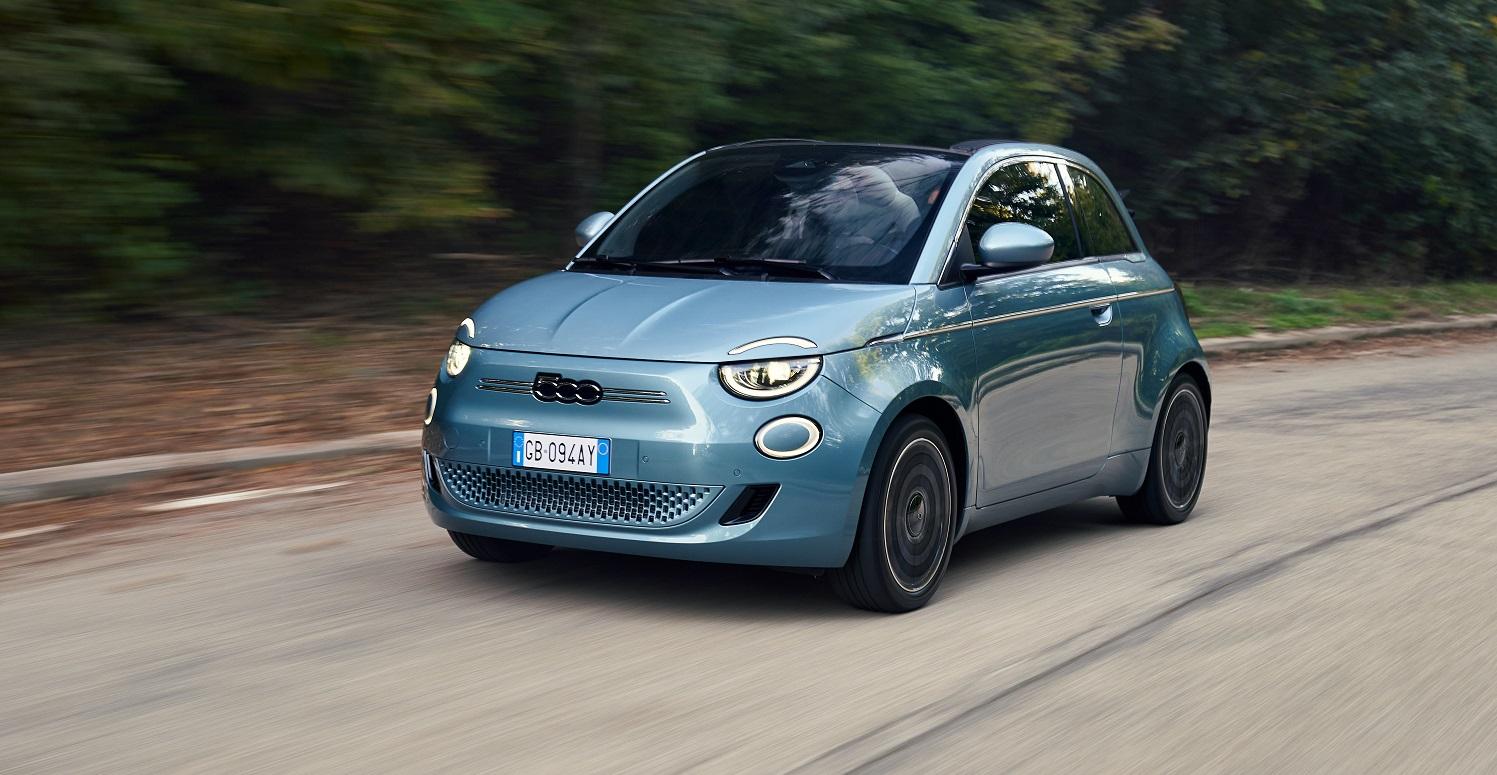 Prices for the new fully electric Fiat 500 have been announced, with the range starting from just under £20,000 after the Government Plug-In Car Grant.
We first learnt of the electric Fiat 500 earlier in 2020 and orders have been open for the "La Prima" first edition since June.
But now we have more details on the other trims available and their pricing.
What you need to know?
Key Features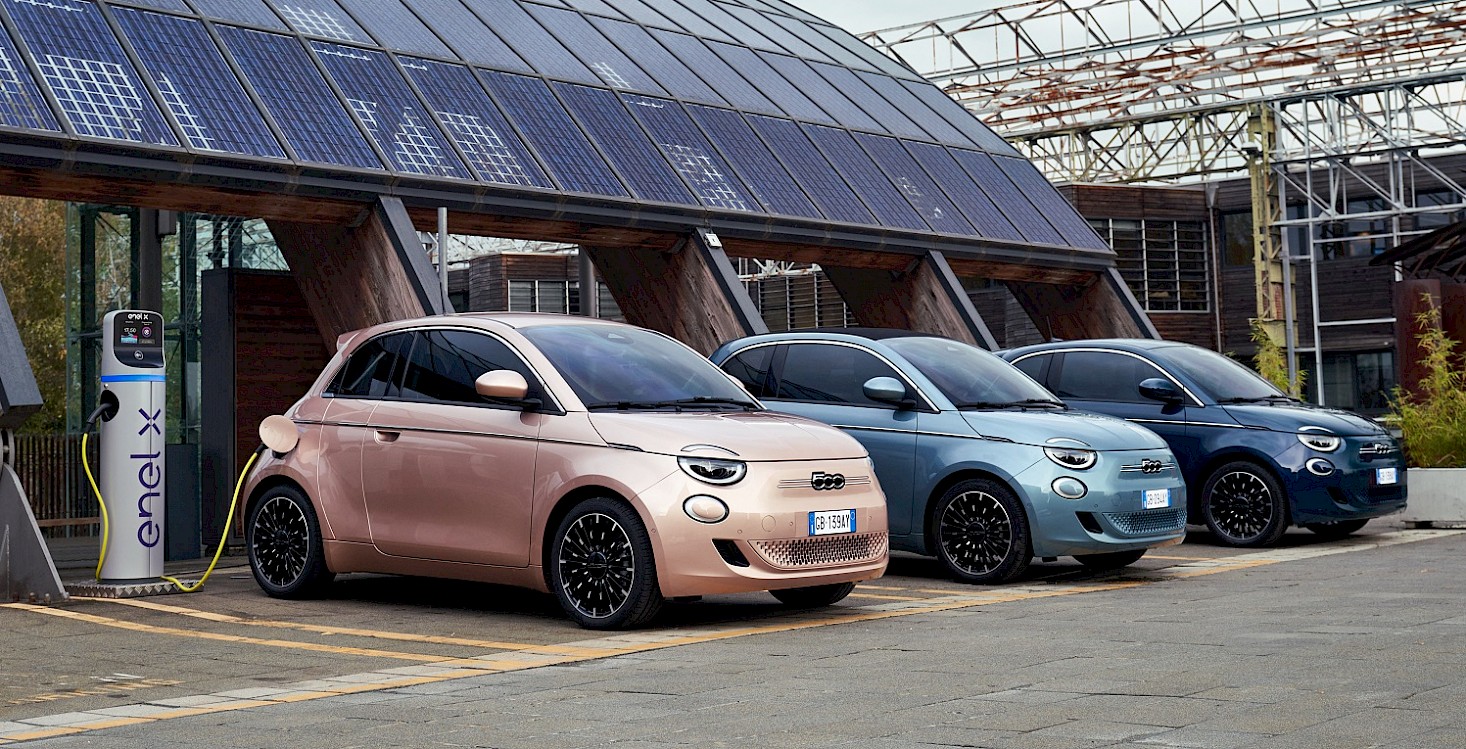 Clearly the biggest change is under the bonnet or rather what isn't under the bonnet. The Fiat 500 has gone fully electric and has a WLTP range of up to 199 miles depending on the model you select.
But Fiat has taken the opportunity to make some neat new additions and tweaks to what was already a fantastic little car.
It's available as a hatchback, cabrio, and a new "3+1" model. More on that below.
Iconic design
The Fiat 500 has been around in some form since the late 50s and its iconic design made a triumphant, albeit slightly bigger, return in the 21st Century.
It's been a smash hit and despite the inevitable growth spurt when it was relaunched, it stayed true to the original design.
It's perhaps no surprise that Fiat has opted for evolution over revolution in the design department, although it is a little wider and longer than its predecessor.
The familiar shape is obvious, with the biggest change at the front thanks to the lack of a grille. Instead, it has a very clean front where the 500 logo dominates.
The iconic and unique interior remains with the circular instrument panel taking centre stage alongside the two-spoke steering wheel.
In keeping with the zero-emissions nature of the new electric 500, the seats are made of a vegan leather, mats made of recycled materials, plus chrome replacement paint is used instead of actual chrome.
The Fiat 500 has always been a fun car to look at as well as drive, which means a range of six exterior paint options including: Earth Grey, Glacier Blue, Rose Gold, Cloud Grey, Ice White and Onyx Black.
Three trims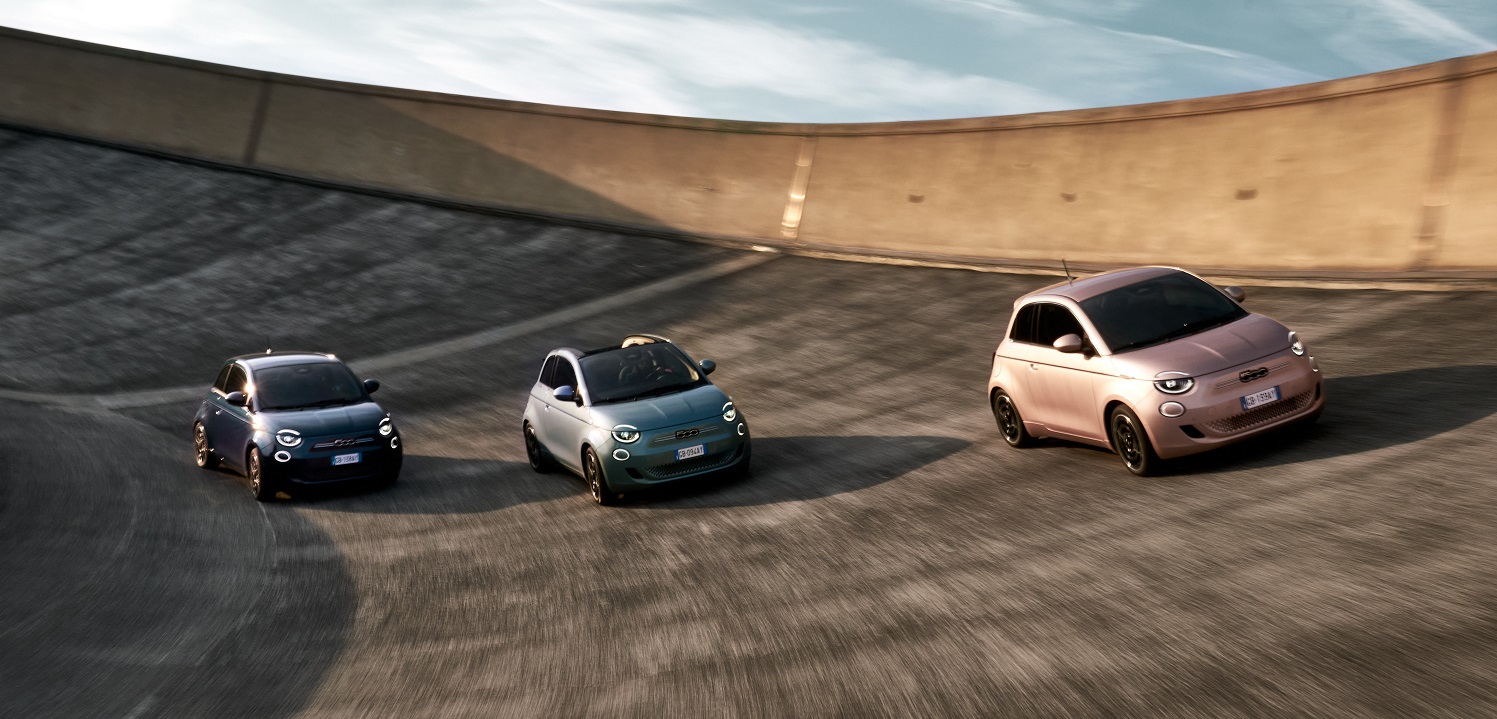 Fiat 500 Action
There are three trim levels in addition to the limited-run "La Prima" – Action, Passion and Icon.
The entry-level 500 Action is available as a hatchback only and comes with the smaller 23.8kWh battery which should give you a range of 115 miles, although Fiat claims this will increase to 150 miles if you're only driving in the city at lower speeds. That shouldn't be a problem as it has a limited top speed of 84mph and a 0-62mph time of 9.5 seconds.
Charging at home using a dedicated 7.4kW home charge point will take around three hours from empty to full. Although you will need to either buy a new charging cable or make sure your charger has one attached because Fiat is only supplying a cable that is capable of 3kW – that is half the power of most typical home chargers, which we think is a little stingy.
To make sure you make the most of the Fiat's charging capabilities, you can compare chargers right here or speak to our customer support who can advise you.
It also is equipped with rapid charging functionality and will charge at up to 50kW when using a 50kW or higher public rapid charger.
This version gets halogen headlights (no LEDs here) and 15-inch wheels. But you get auto start, which means no keys are needed to start the car, rear parking sensors and a 7-inch digital cockpit display.
Fiat 500 Passion
Go for the mid-range Passion model and you'll be powered around by a much larger 42kWh battery which provides up to 199 miles of range. That's seriously impressive and only really beaten by the larger, more expensive Renault Zoe ZE50.
Fiat says city-only driving will result in a range of 285 miles, which sounds a bit optimistic, but the truth will out when it hits the tarmac.
The home charging situation is the same as the Action trim, but you do get an upgrade to the rapid charging capability with this version able to charge at up to 85kW using a public rapid charger.
On the exterior you'll get the same size 15-inch wheels, but this time with a two-tone finish. You also get LED daytime running lights, which offer a much smarter look overall.
Inside, the infotainment gets an upgrade too with the addition of a 7-inch infotainment touchscreen, plus Apple CarPlay and Android Auto.
Elsewhere, the Passion model receives cruise control and climate control as standard.
You can also order the Passion as a hatchback or cabriolet.
Fiat 500 Icon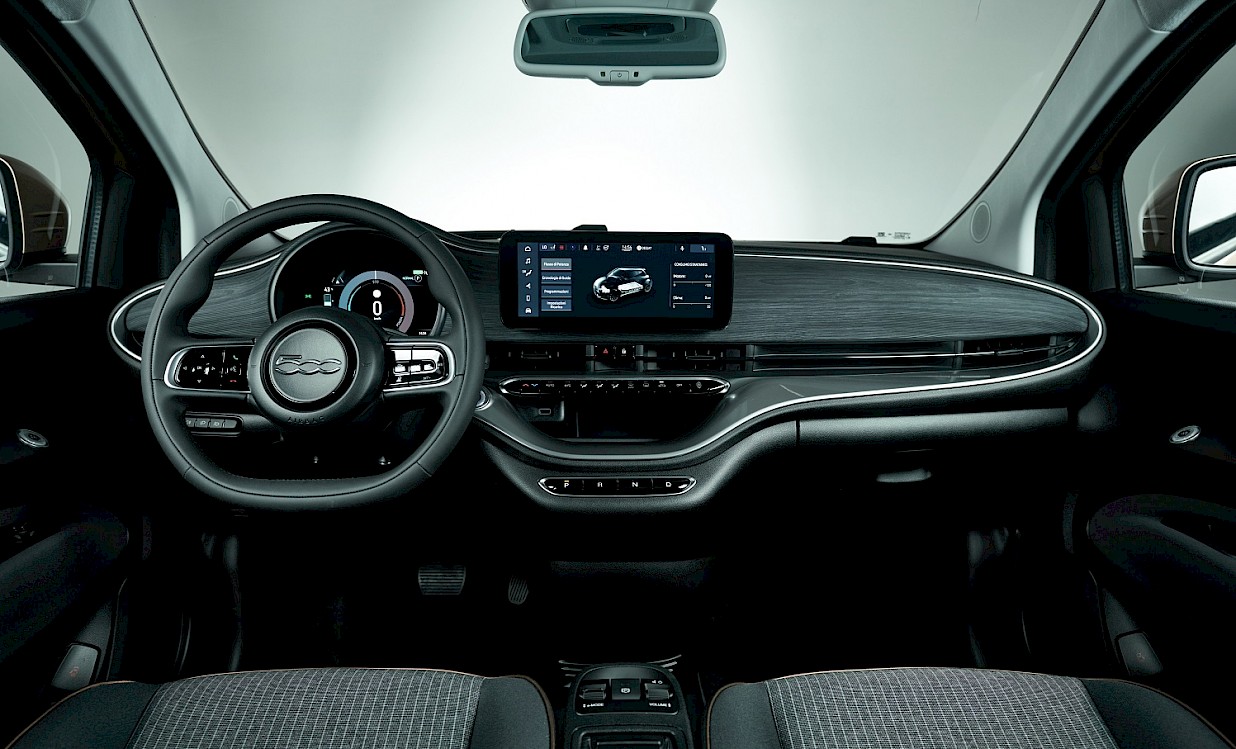 Hop into the range-topping Icon trim and you're presented with a few more creature comforts.
You'll get the same 42kWh battery for a range of 199 miles and, like the Passion trim, you can get it as either a hatch or cabrio.
It shares the same home and rapid charging capability as the Passion, so all of the upgrades are either in the cabin or in the styling department.
Outside you get larger 16-inch alloys with a darker finish, but the real changes begin as you approach the door. Drivers of the Icon trim will receive a wearable smart key called a "Pebble" allowing for effortless entry as the vehicle unlocks or locks as you approach or leave the vehicle.
Inside, the dash matches the exterior paintwork but you can opt for a natural wood effect if you want more a lounge feeling.
The infotainment screen is also bigger at 10.25 inches and this includes sat-nav and integrated infotainment, although Apple CarPlay and Android Auto will still be available.
New 3+1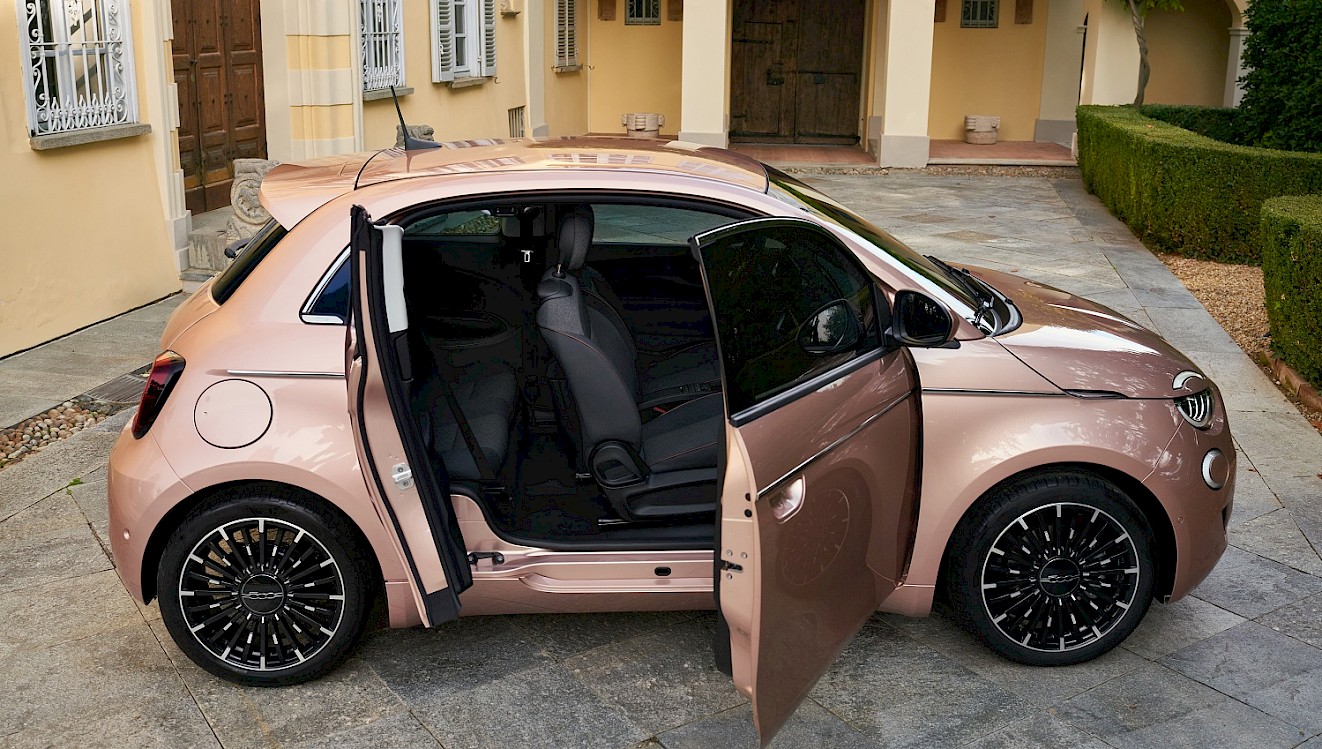 In addition to the hatchback and cabriolet, the 500 is available as a new "3+1" option. This adds a small third door on the passenger side, which opens to the rear.
Apart from looking fantastic, it has a practical benefit for those getting into the back and Fiat says the additional weight from the door mechanism does not impact the car's range.
Unfortunately, this version of the 500 is initially only available in left-hand drive markets. Here's hoping it reaches the UK.
The sound of Italian creativity
What else is there to note?
The new Fiat 500 is capable of Level 2 autonomous driving, which essentially brings with it more advanced safety systems and "co-pilot" features. In others words, the driver is still very much in control, but the car will assist with keeping you in lane, recognising speed changes and will perform an automatic emergency brake if needed.
One of the more quirky aspects of the new electric 500 is the sound it makes, which Fiat describes as having "Italian creativity". The sound is based on work by Italian composer Nino Rota, perhaps best known for his score for The Godfather.
The Acoustic Vehicle Alert System will be active at speeds of up to 12.5mph. You can listen to it for yourself right here: https://www.fiat.co.uk/500-electric
Prices for the new electric Fiat 500 start from £19,995 with the Government plug-in car grant and rises to £27,645 for the cabrio version in the Icon trim.