InstaVolt leads survey of most popular EV charging networks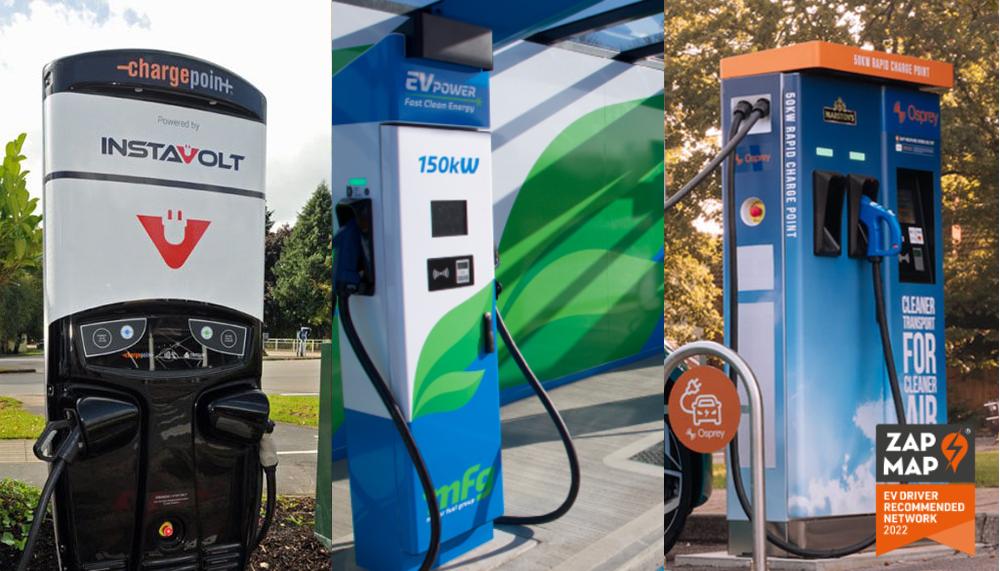 InstaVolt has come top of a Zap-Map survey of 3000 EV drivers for reliability and ease of use, with MFG EV Power and Osprey taking second and third respectively.
The league table is now in its fourth year, and asks those taking part to rate the networks they use regularly for overall satisfaction out of five, and also rate their satisfaction with regards to reliability, ease of use, cost and facilities.
InstaVolt (4.5 stars) followed up last year's second place with the overall victory, helped by its partnerships with the likes of Costa Coffee, KFC, Starbucks and McDonalds, and has the second largest publicly available rapid charge network with 650 rapid and ultra-rapid devices across the country.
MFG EV Power came second, with four stars out of five overall. A new entrant to the EV market, it is operated by the largest independent forecourt operator in the UK. With 95 ultra-rapid charging devices at service stations across the UK, its network is small, but the firm is investing £400m in 3000 ultra-rapid 150kW and 350kW devices across the country.
Third place went to Osprey, repeating its position from last year. The network has 240 mainly rapid and ultra-rapid devices, and was praised for its reliable, easy-to-use contactless payment. Its chargers are currently located at pubs and restaurants, but the network is investing £75m in 1500 rapid chargers by 2025.
Not so good
At the other end of the table, two of the three networks come under BP Pulse's remit. BP Pulse's 16th place (2.5 stars) came due to a low ranking for reliability and ease of use across its 2980 ultra-rapid, fast and slow-charging devices across the country. BP Pulse has acknowledged the problem and is investing in customer care, charge point management and its charge point locations.
The BP-Pulse-owned Charge Your Car network finished 17th, with 680 rapid, fast and slow charging devices. Poor reliability, chargers out of service, slow maintenance and poor customer service were the main bugbears, while the app's useability came in for criticism.
At the foot of the table was Ecotricity's Electric Highway. GRIDSERVE bought the company in June 2021 and has been upgrading the devices across the country. However, 100 or so devices have yet to be upgraded, which explains why Ecotricity was part of the survey. The system's unreliability, slow charging speed and lack of connectors were the main areas of concern.
Melanie Shufflebotham, Co-founder & COO at Zap-Map, said: "Despite significant changes over the course of the year, there are some things that remain the same. EV drivers are clear about the factors that make for a good charging experience, namely reliability and ease of use – and these should be key priorities for the UK's public charging networks.
"The Zap-Map survey shows that while this is being delivered by some, others are falling short and there needs to be improvement. As we move from the early adopters towards mass EV adoption, making public charging simple becomes more important than ever."
More details can be found at: www.zap-map.com.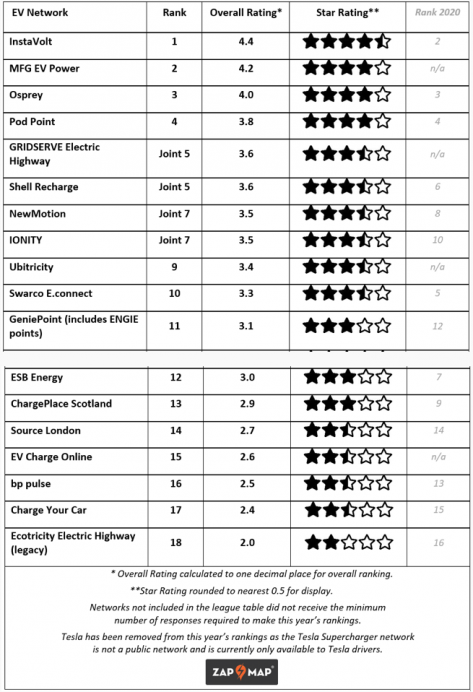 Compare many of the UK's biggest rapid and destination charging networks side-by-side and get a break down of costs per mile, single charge and per trip.