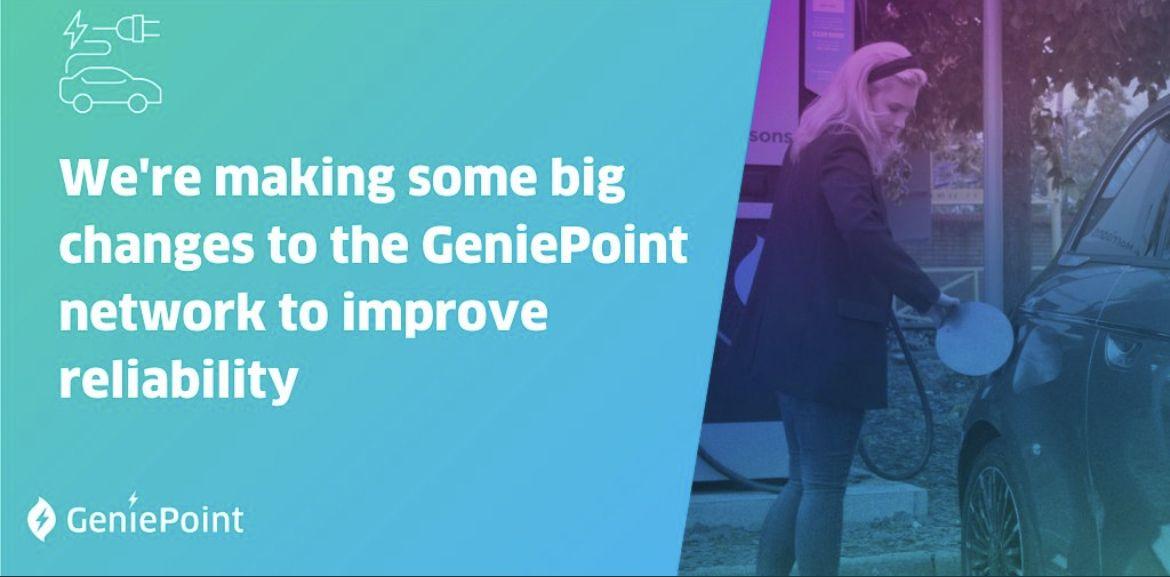 GeniePoint advise network charges are set to increase
---
Charging network blames unprecedented global rise in energy prices for increasing tariff
Electric vehicle drivers who regularly rely on the GeniePoint network for recharging, are in for a stark reminder of how energy prices are shaping up for the unforeseeable future. The company have already started informing users that their guest and contactless driver tariff is to increase to 42p per kWh on 15th October this year.
GeniePoint are quick to explain their reasons for the increase by saying: "Over the past few months, there has been an unprecedented rise in global energy prices which has affected many businesses. As a result of this increase, the price of the electricity used to power the GeniePoint network has also risen."
However, GeniePoint also add that in comparison to last year's tariff, their electricity costs have more than doubled, making it inevitable that a rise in price was on the cards. They also point out that despite the rise within the energy market this year, they have done their utmost to hold off passing down the cost to customers for as long as they can. The fact they didn't increase network prices at the time certainly proves this.
The increase comes at a time when the cost of living is rapidly on the increase, as the government are seemingly laying down plans to increase National Insurance contributions and possibly Income Tax too. The Bank of England have already suggested that a rise in interest rates by half percent could also occur. Plus, many other energy providers are looking to increase tariff costs to maintain stability.
Although GeniePoint users may feel let down, the company are being pragmatic with their decision making by adding: "We wish we could avoid increasing our prices, but this price change will mean that we can continue to provide you with access to our growing GeniePoint network and commit to improving our services to you. We have made some important improvements to our network this year, including simplifying our prices, launching the roll-out of contactless chargers, moving to pay as you go and growing our customer service team. We want to continue to make changes so that we can improve the charging experience for all of our drivers and improve the reliability of our network."
Working with network users
GeniePoint are fully aware that users of their network will no doubt have plenty of questions to ask and have laid out answers to many of the ones most likely to be frequently asked:
Q: When will the new prices be in effect?
From 06:00 on the of 15th October 2021, the new pricing will be live across GeniePoint network public chargers, including both rapid and fast chargers.
Q: Will this change impact pricing across private scheme chargers?
There are some chargers supplied by GeniePoint that are owned privately. The new pricing tariffs only affect GeniePoint public chargers and will not affect privately owned chargers or white label networks, e.g. the Revive Charging Network in Bristol.
You can find the full list of these schemes here
Q: Will this change impact pricing for a charger at my workplace?
No, workplace chargers are also classified as private scheme chargers and will not be affected by the price change.
Q: Will the changes within the energy market affect whether the GeniePoint network is powered by renewable electricity?
No, where we control the energy supply to our public chargers, we will ensure that our chargers continue to be powered by sustainable, renewable electricity. We're passionate about providing access to charging points that are good for the planet.
Q: A charge point near me has been broken for some time. Does this mean that the charger will take longer to be fixed?
This year has not been without challenges for businesses across the industry. Due to the ongoing pandemic, micro-chip shortage and issues with receiving parts into the country from our manufacturers in Europe, our fault repairs are taking longer than we would like. However, as ever, we will endeavour to fix broken chargers as quickly as possible to ensure we maintain a reliable network. Please be rest assured that we are working hard to resolve these issues with our team of qualified engineers.
Q: Where can I find the new pricing when I charge?
You'll see this price within the GeniePoint app when you select a charging location, as well as on our website. We are also working hard to update our charger screens and any pricing stickers that are currently on the charger unit. Please note for a short period of time, you may see our old pricing tariff on the chargers, but rest assured you will be charged as per the new tariff, which you can confirm by referring to the price within the GeniePoint app when you charge.
We want to assure you that we're committed to continuing to make improvements to our service and the reliability of our network. As a registered driver, you'll still have access to all of our registered user benefits, including access to account management features within our app, plus more exciting benefits coming soon.
If you have any questions about any of the above, call: 020 3598 4087. Alternatively you can email.