Ford announces its fully electric E-Transit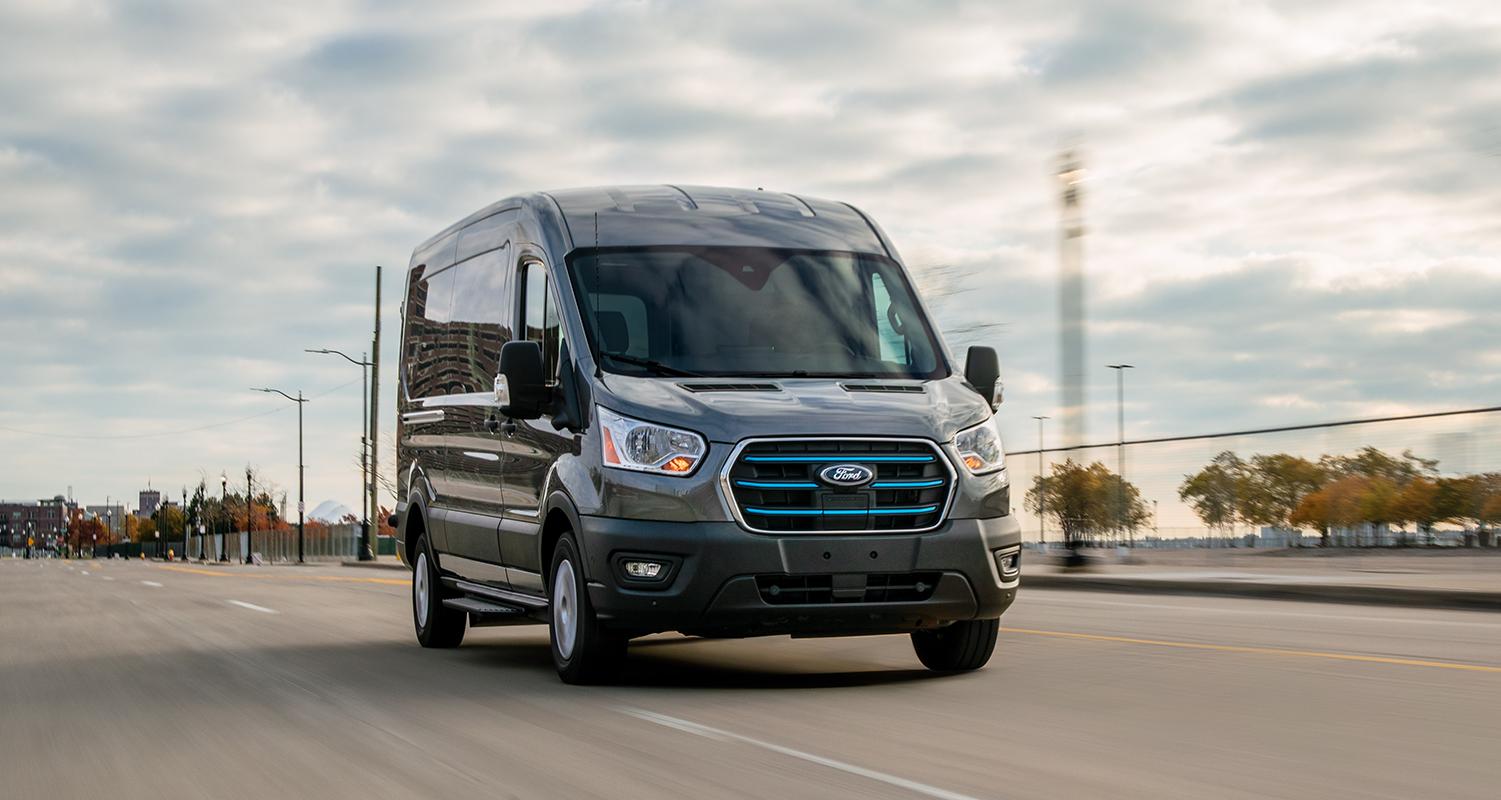 Based on the best-selling cargo van in North America and Europe, Ford unveils the full electric E-Transit which is predicted to go on sale in Spring 2022.
What is it?
Going head-to-head with rivals such as Mercedes eSprinter and Vauxhall's Vivaro-e, the Ford E-Transit fleet of vehicles is Ford's answer to anyone looking to go full-electric on their next commercial vehicle.
Providing a generous choice of 25 possible variants, the new fleet of E-Transit vehicles claims to deliver an estimated driving range of up to 217 miles with a rear-wheel powered electric motor providing a peak output of 198kW and 430Nm of torque making it "the most powerful motor of any fully electric cargo van sold in Europe".
What you need to know
Design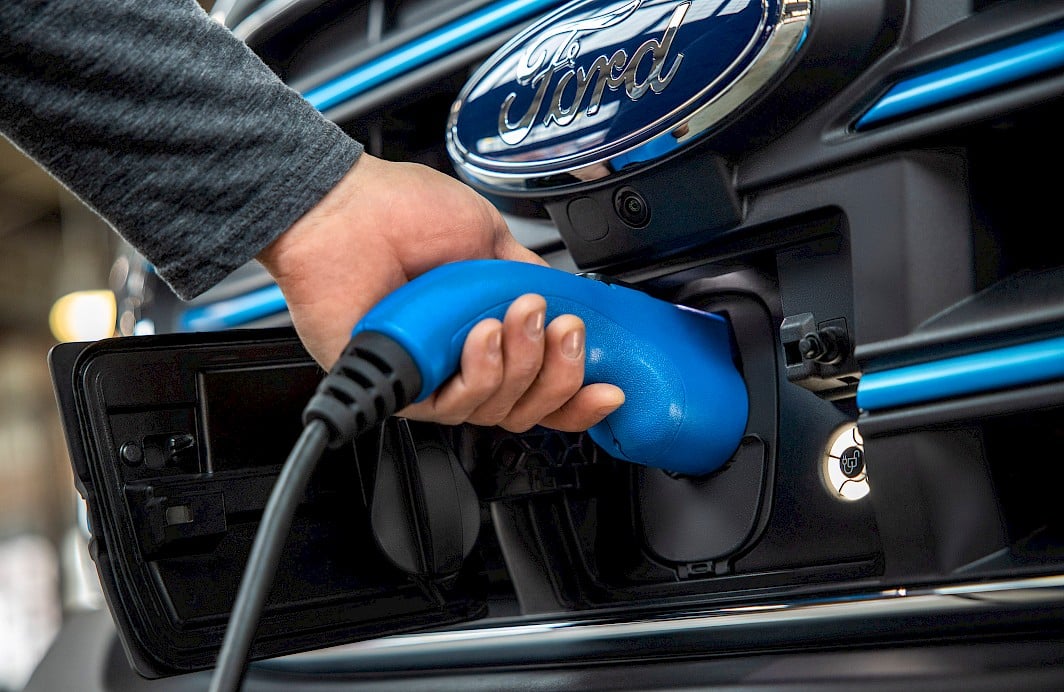 Externally, the E-Transit will look identical to its diesel counterpart with the only difference being the charge point which will be located under the badge on the front.
Thanks to Ford's redesigned driveline and rear suspension system designed to optimise cargo space, the targeted payload of the E-Transit is generous with up to 1,616kg for the vans and up to 1967kg for the chassis cab models.
Technology and charging
Built with trades-people in mind, the ford E-Transit vehicles offers enhanced productivity features such as "Pro-Power", which allows customers to tap into the vehicle's underfloor 67kWh battery and use it as a mobile power source providing up to 2.3kW of power for uses such as recharging tools and equipment at jobsites.
All E-Transit vehicles are capable of 11kW AC charging, although this requires a three-phase supply and charger. Learn more about how you can achieve 11kW charging in our guide to three-phase chargers here.
This means the Ford E-Transit is capable of delivering a 100% charge in around eight hours. The CCS rapid charger connection allows you to charge at up to 115kW when you plug in to a public rapid charger. This allows a 15% to 80% recharge in around 34 minutes.
Ford's FordPass Connect system is built-in as standard on all E-Transits. This network feature is designed to optimise fleet efficiency by allowing users to easily find charging points and even pay for charging while on the on-the-go. The system will also provide over-the-air updates such as map updates and new software features.
In terms of driver convenience, the E-Transit is equipped Ford's SYNC 4 communications and entertainment technology which features a 12-inch infotainment display with voice recognition and cloud-enhanced navigation.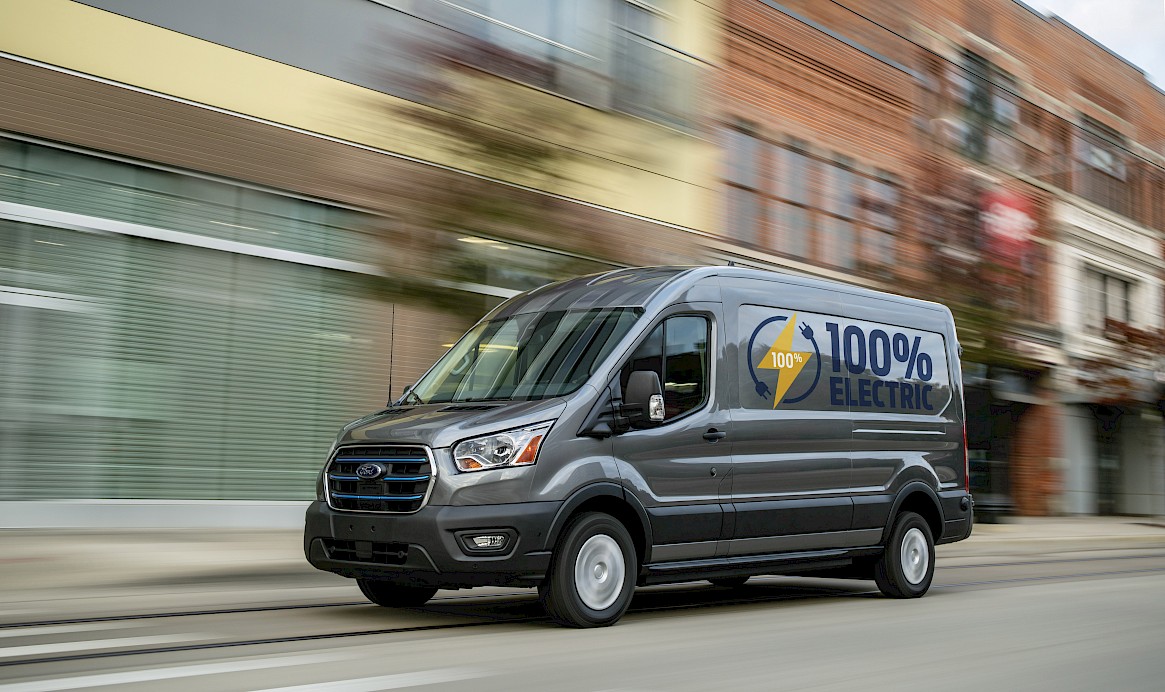 Pricing has yet to be announced but we expect the fleet of E-Transits to be competitively priced with its rivals stated above.