BMW introduces the all-new iX1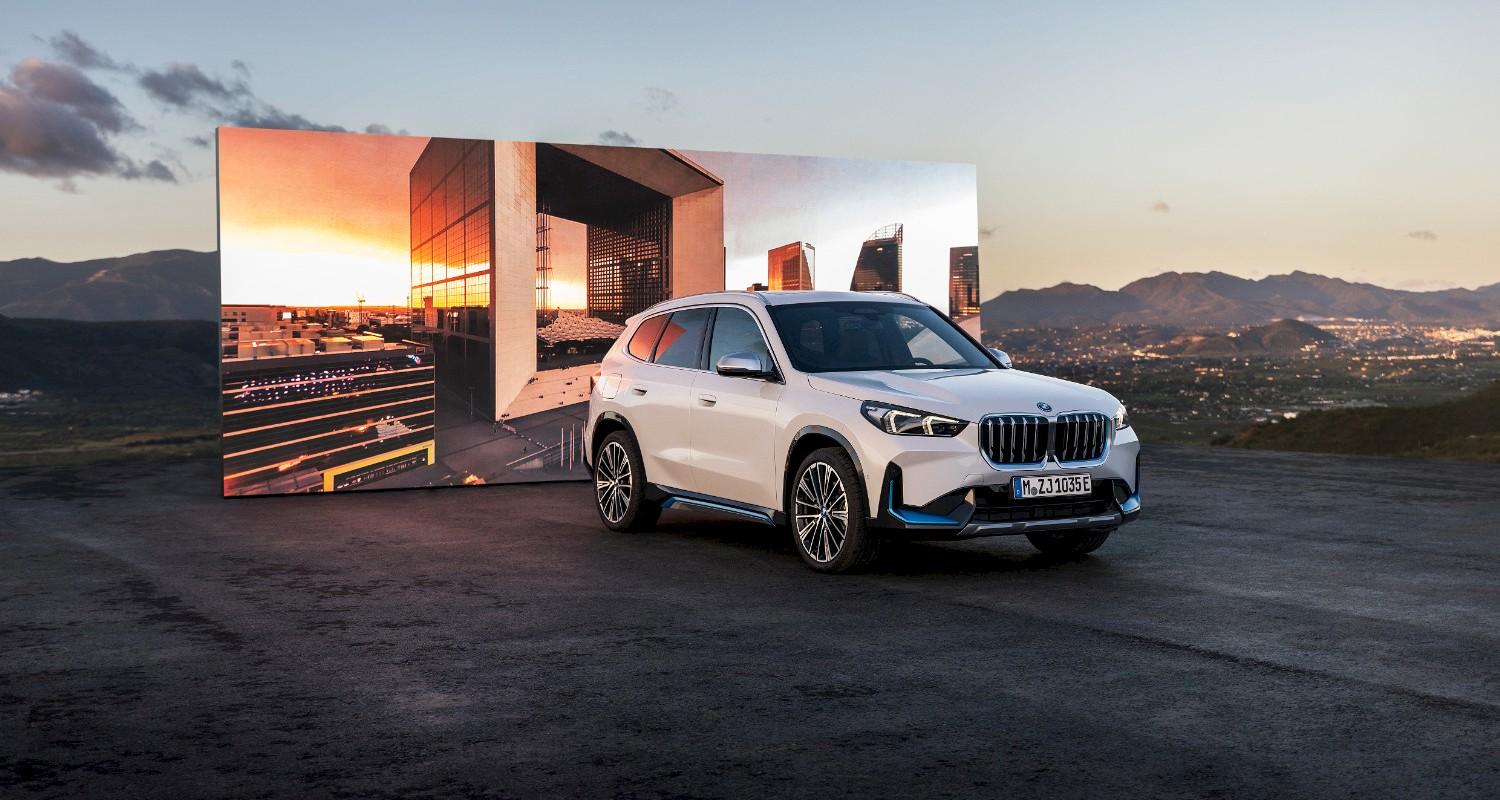 BMW has introduced its new X1 range, which for the first time features a full EV and two plug-in hybrid models alongside petrol and diesel options.
The all-electric BMW iX1 xDrive30 is powered by one electric motor at the front axle and another at the rear, delivering a combined output of 313hp (including temporary boost) and an overall torque figure of 494Nm. The 64.7kWh high-voltage battery is positioned flat within the vehicle's underbody with power consumption coming in at around 18.4 – 17.3kWh per 100km (WLTP). The driving range on the all-electric iX1 is around 257 – 272 miles.
The BMW iX1's drive system can also use adaptive recuperation to recover kinetic energy during a journey and feed it into the high-voltage battery. Recuperation of up to 120kW can be generated via the brake pedal.
The two electric motors acting on the front and rear axles in the BMW iX1 xDrive30 create an electric all-wheel-drive system. "Interaction between the two motors is enhanced by a unique drive torque control system integrated into the Combined Charging Unit, which is interlinked with the DSC and the AWD-specific version of the near-actuator wheel slip limitation function," says BMW.
What about the plug-in hybrids?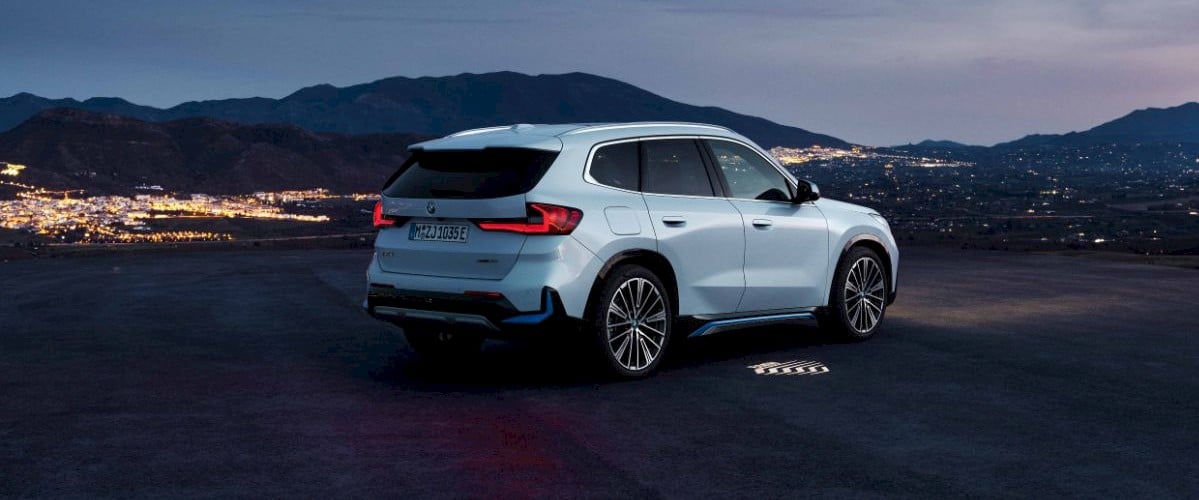 With regards to the plug-in hybrid models, BMW offers discounted tariffs for AC and DC charging across Europe via IONITY and the BMW Charging network. There are 16,000 charging points in the UK and Ireland, with free charging at BMW and IONITY for the first 12 months. European BMW iX1 and BMW X1 plug-in hybrid models come with a BMW Charging Card, a charging cable (mode 3) and a Flexible Fast Charger.
There are five trim lines – Sport Premier, xLine Premier, xLine Premier Pro, M Sport Premier, and M Sport Premier Pro – prices start from £35,130, though specific prices for electrified versions are yet to be released; they're due to be available soon after launch.
GET A CHARGE POINT INSTALLATION
We have many charge points in our
product range
to suit anyone's needs. Simply pick a charge point and click request a quote to get started.
Anymore details?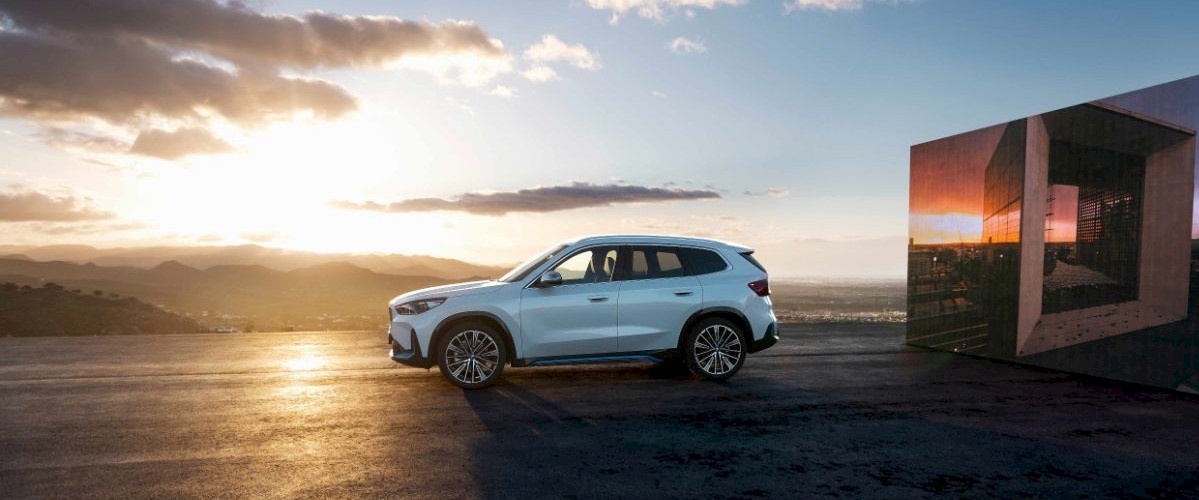 The new BMW X1 has grown by 53mm in length to 4,500mm, 24mm in width to 1,845mm and 44mm in height to 1,642mm. Its wheelbase is 22mm longer than before, at 2,692mm, while its track widths have increased by 31mm to 1,592mm at the front and 1,593mm at the rear.
Adaptive M suspension is standard fitment on all M Sport models, including the plug-in hybrids and iX1, and is fitted as standard on the BMW iX1 xDrive30 xLine. "Agility and comfort benefit from mechanically controlled adjustable and frequency-selective dampers," says BMW. "Pressure peaks inside the dampers are smoothed out by additional valves active on the rebound side. The specially designed damper system also brings about a 15mm drop in ride height."
All variants receive sport steering as part of the adaptive M suspension specification, with a more direct rack ratio, along with the Servotronic speed-sensitive power assistance included with the standard steering.
Under the front of the BMW iX1 lies an additional shear panel, which is designed to be a load-bearing component and to increase the body's rigidity. The all-electric model has a special brace between the spring strut towers in a bid to improve turn-in response. "The aluminium bonnet cuts weight at the front, while lightweight plastic supports for the front and rear doors bring further weight savings," BMW says.
App-iness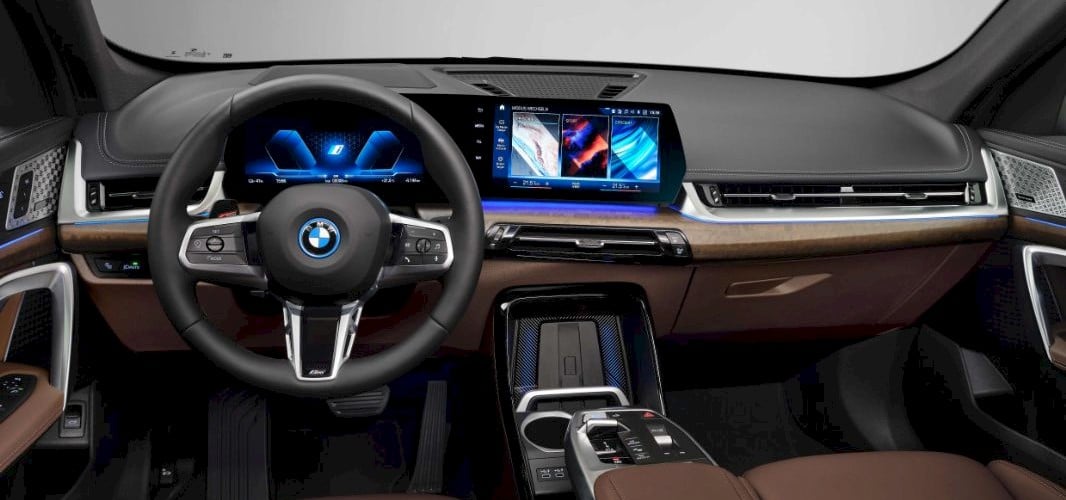 Features of the My BMW App have been expanded so that the BMW iX1 and BMW X1 plug-in hybrid can have their battery charging controlled remotely. "The preferred departure time can be entered to display the anticipated charge level at that point," BMW says. "If the vehicle is plugged-in, charging can be started or halted at any time from the app, regardless of the charge level."