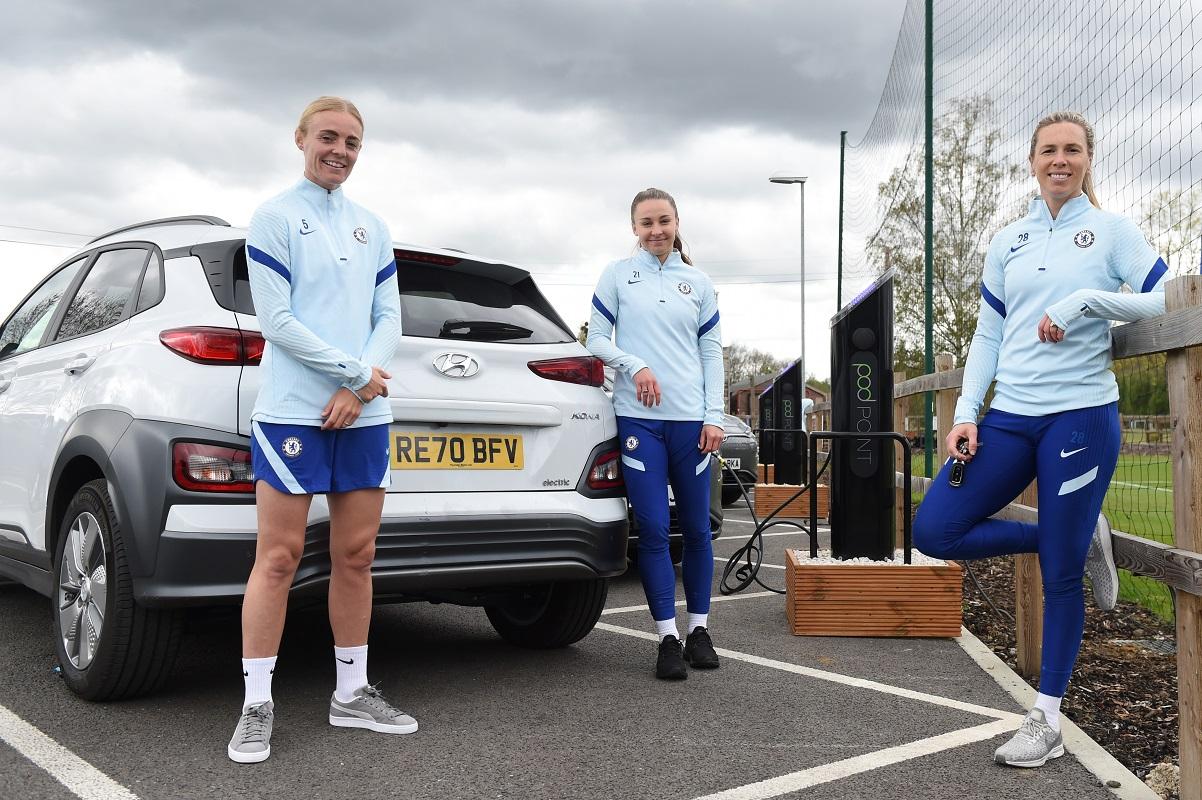 Blues determined to go green thanks to Hyundai Kona fleet
16th Sep 2021 Paul Fenech
---
Hyundai Motor UK is supplying Chelsea FC with a fleet of Kona Electric SUVs in breakthrough campaign
A unique partnership between motor company Hyundai and Chelsea FC is set to educate football fans and customers alike explaining the benefits of switching to EVs. The campaign called 'Turn the Blues, Green' will see a fleet of Kona Electric SUVs being delivered to the Premier League club, as well as having six charging points installed at the clubs' Cobham Training Centre.
Chelsea Ladies, who were crowned FA Super League Champions for the second season running, have already taken delivery of the EVs, including midfielder Sophie Ingle who is very impressed: "I drove a single, long trip to Wales and back and the Kona Electric SUV performed superbly with no issues," said Sophie who also captains the Wales international side.
The Hyundai Kona Electric SUV can recharge its battery in just 47 minutes using a 50kW DC charging station and possesses an incredibly impressive driving range of 300 miles. Hyundai's four-year deal with Chelsea FC is their first with English football and sees their logo appearing on all Premier League and UEFA Champions League match shirts.
"We pride ourselves on partnering with some of the world's leading companies and we've enjoyed a successful relationship with Hyundai since the start of the 2018/19 season," said Chelsea FC CEO Guy Lawrence.
Hyundai Motor UK MD Ashley Andrew said: "It's fantastic to have the opportunity to partner with Chelsea FC and the Turn the Blues, Green campaign. The feedback on The Kona Electric from the players has been incredible."
Michael Cole, who is President and CEO at Hyundai Motor Europe also added: "Our Turn the Blues, Green campaign will help to raise public awareness of the benefits of EVs like our Kona Electric and enable us to also deliver our Progress for Humanity."
The award-winning Kona Electric SUV features 10% to 80% state of charge when charged at a 100kW DC charging station. And the Turn the Blues, Green campaign will initially run through 2021/22 season.