Audi lifts the lid on A8 plug-in hybrid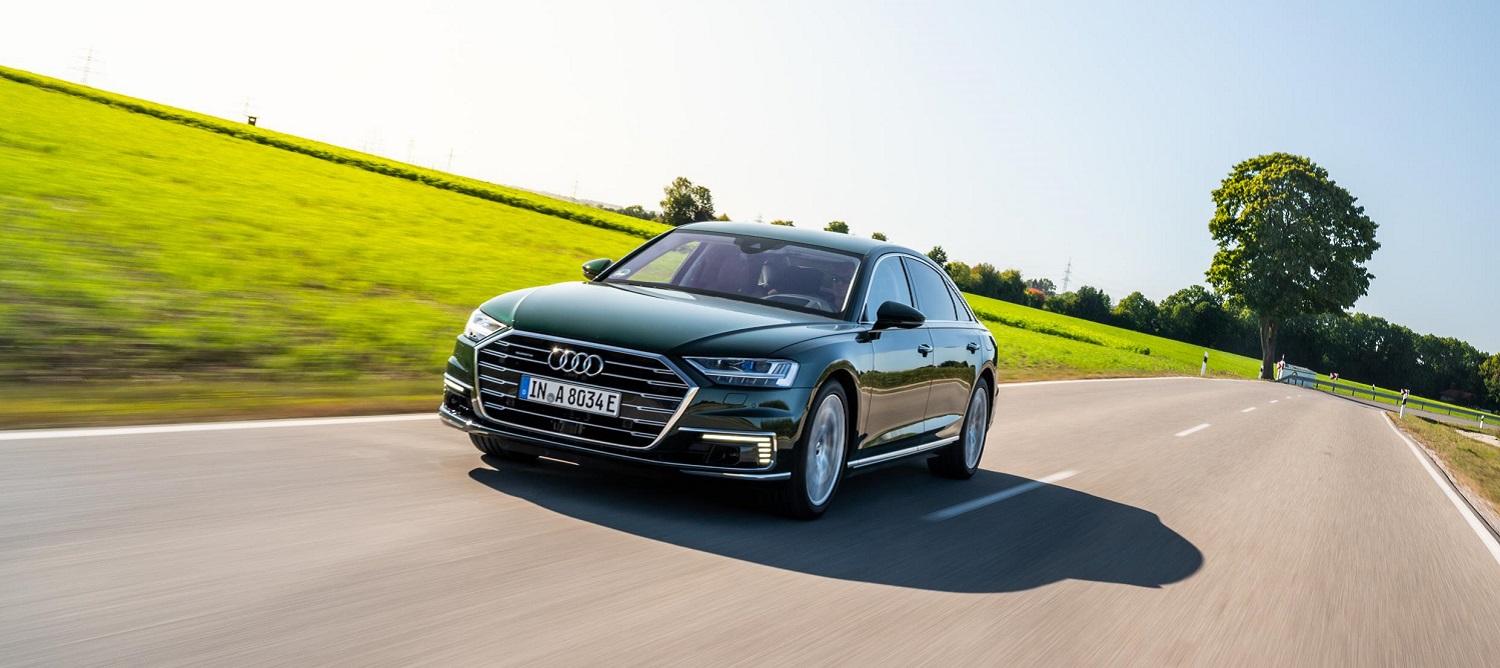 The Audi A8 will have a plug-in hybrid drivetrain for the first time, offering up to 28 miles of pure electric driving with deliveries due in early 2020.
The A8, the flagship in the Audi line-up, usually incorporates the latest in entertainment, safety and luxury technology but this is the first time it will include an electric motor.
The turbocharged 3.0 litre V6 works with the electric motor to achieve 700 Newton Metres of torque and 330kW of system power, which will take the vehicle from 0-62mph in 4.9 seconds.
The plug-in hybrid A8 is the long wheelbase version, measuring 5.3 metres, with a standard wheelbase model arriving later.
Efficiency
Although the Audi A8 is a luxury vehicle, and a power output to match, it is also concerned with being efficient. The 14.1kWh battery allows the vehicle can drive up to 28 miles on electric only power up to 83mph.
In addition, the four-zone automatic air conditioning works in conjunction with the heat pump, making the most of the waste heat from high-voltage components. Audi also claims the A8 L 60 TFSI e quattro consumes just 2.5 litres of fuel per 100km, while it can also recover around 80kW of power through regenerative braking.
As is customary with plug-in hybrids, the A8 has a number of driving modes to suit the conditions. Drivers can select from Hybrid Auto which will use the navigation system to calculate the best use of the powertrain, while Hybrid Hold mode will reserve the battery for use in an urban environment or in areas with an Ultra Low Emission Zone.
Drivers can also use the "EV" soft key to adjust the interaction of the two electric motors if they so wish.
Looks and sound
The A8 has always shown off the best in Audi interior luxury and it looks like the latest iteration will not tarnish the legacy. The four-seater is designed to make the rear the most desirable place in the vehicle with optional extras such as foot massage, heated footrest and much more.
In anticipation of upcoming regulation, the Audi A8 PHEV emits a synthetic "e-sound" to alert any pedestrians or cyclists in the vicinity. The Acoustic Vehicle Alerting System (AVAS) can be heard up to 12mph and is in accordance with EU guidelines.
Orders are open at the end of 2019 and first deliveries are due in early 2020.