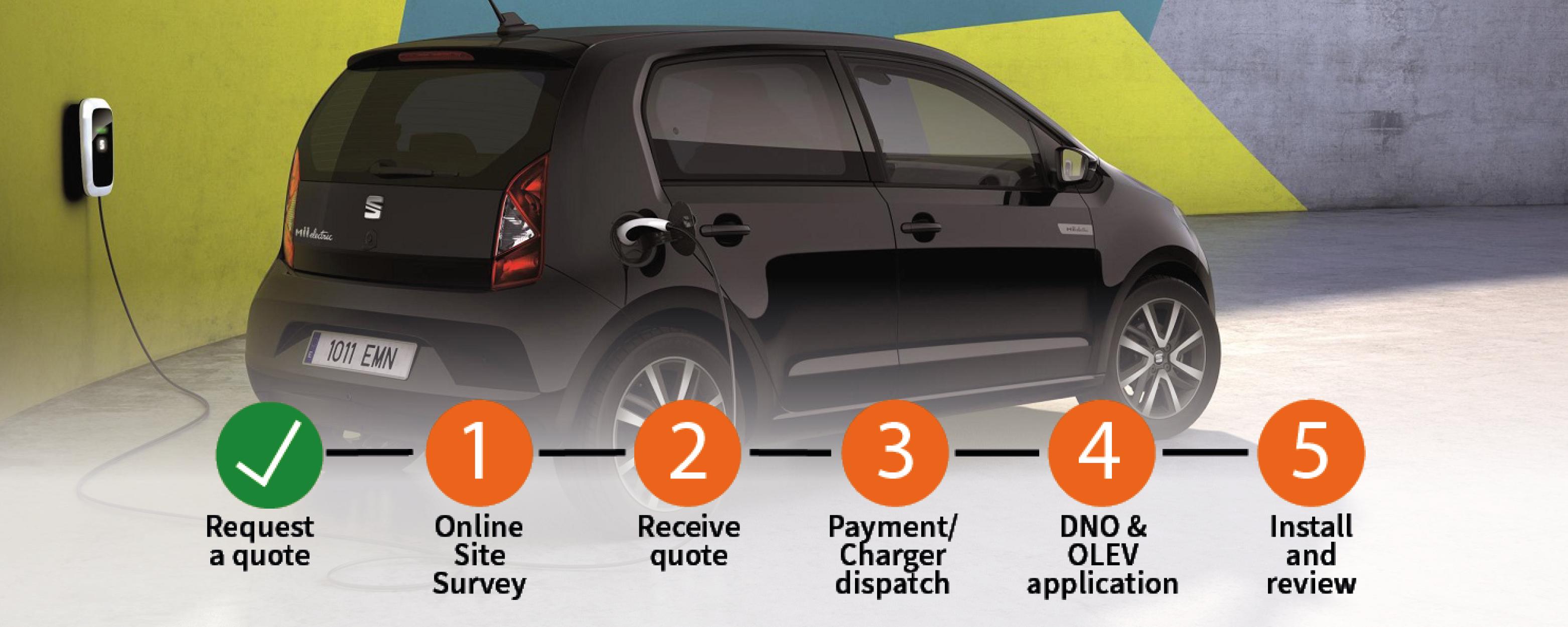 EV charger installation - how do you get started?
15th Nov 2019 Danny Morgan
---
How do you get an EV charger installed with Smart Home Charge? This guide explains our simple charger installation process step by step.
To get started, we recommend clicking "Request a Quote" on one of our chargers.
This is the best and quickest way to get the ball rolling with your quote and EV charger installation. We can answer any questions you have along the way and we also do the heavy lifting when it comes to your OLEV Grant claim.
To get started, simply select "Request a Quote" on one of the chargers here.
If you want to get more more detail on each step of our process, you can find this below.
Choose a charger and "Request a Quote"
Use our electric car charger comparison page to find the ideal device for you, your vehicle and your budget. Or you can find a compatible charger for your vehicle by browsing our car guides. Simply find your vehicle and the page will display compatible chargers for your EV or plug-in hybrid.
Don't worry if you're not 100% sure of the charger you want - that's easy to change later. The important thing is to get the ball rolling...
1. Complete your Online Site Survey
We will send you a text and an email to complete your Online Site Survey. Don't worry - it's a quick process, can be completed remotely at home from your smartphone or computer and we guide you every step of the way.
Make sure you submit all the photos and video requested, so we can give you an honest and accurate quote for your charger installation. We do this so you get the full picture (and costs) of what is required before you make a purchase. This way, you can make an informed decision.
2. Get your quote
Our in-house engineers will assess the requirements for your charger installation and we will email and text you the quote for the charger and the installation work. If you are eligible for the OLEV Grant, this will be included on the quote.
3. You pay. We order your charger
Once you've paid, we order your charger and get it sent to you. At the same time we will email you when your charger is on its way. Simply click on "My Charger Has Arrived" in the email when it has been delivered to you safely.
Note: the Tesla Wall Connector must be ordered directly by you. Smart Home Charge cannot order the Tesla Wall Connector on your behalf.
4. OLEV application and your DNO
Before we can book a date for your installation, we need to gather all the details from you for your OLEV Grant application. After payment, you will receive an automated email to Schedule a Callback with our OLEV team to start this process. We cannot go ahead with your installation until this is done.
We guide you through the whole process and here is a handy guide to the OLEV evidence to show you what we need.
IMPORTANT:

While we process and submit your application on your behalf, we are unable to approve applications. This resides with the Government OLEV department and can take up to four months for approval to be confirmed. Although, the Grant discount is applied to your quote at the payment stage, you could be liable for the grant if the claim is rejected – so it's really important to check you are eligible and help us help you with the claim and evidence required.
Your Distribution Network Operator
Before any installation, we need to notify your DNO (Distribution Network Operator). This is a requirement and is in place to ensure chargers are installed safely, appropriately and will not unduly affect the property's supply or local grid. We will do this on your behalf, but please remember that approval from the DNO is out of our control and response times can vary.
IMPORTANT:

In some instances the DNO may need to visit the property and they may charge you for any potential works that need to be carried out before installation (such as unlooping a looped supply). This is dependent on your DNO and any associated works or costs are not within the control of Smart Home Charge.
5. Installation
Once you have your charger, the DNO has been notified and your OLEV Grant application has been verfied by our OLEV team, we will get to the exciting stuff and book an installation date for you.