What does the future hold for home EV chargers?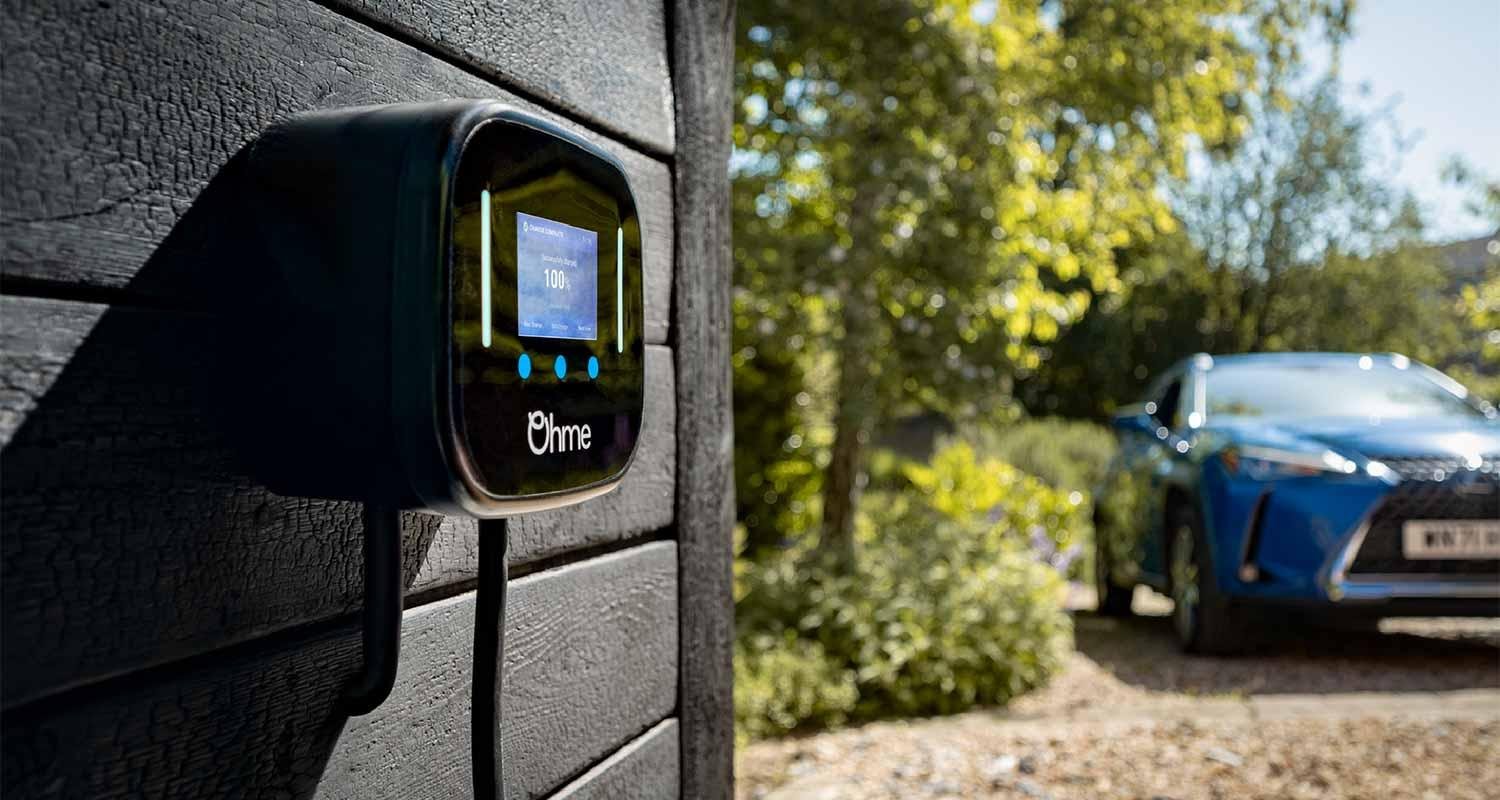 Industry leaders make their predictions for what to expect next year and beyond with the latest innovations in electric vehicle charging.
Innovation in the electric vehicle market moves at a lightning pace and it means exciting new updates to transform the way we think about home charging are always just around the corner.
Smart Home Charge's own editor and marketing manager Danny Morgan has shared his views on what to expect in the home charging market and is joined by industry leaders Daniel Hollingworth, engineering director at Ohme Technologies, Charlie O'Donoghue, Easee UK head of product and the EV Man himself Andrew Rogerson.
Browse our product range
Thinking of switching to an EV? Charging at home is one of the quickest and cheapest ways to keep it charged. Browse our range and click "request a quote" to get started.
What is the next big evolution in home charging?

There's a consensus that EV drivers can expect further sophistication in how their cars interact with the electricity grid and even homes themselves.
Morgan expects better vehicle-to-home (V2H) integration will signal the next major step in charging technology. This would essentially create a home energy battery solution in the form of your EV sitting on your driveway.
He said: "In my view V2H could help homeowners make significant savings on their home energy costs, as well as reduce pressure on the grid.
"Sure, there are other options available now and solar EV charging achieves this to some degree, but the amount of solar charging that the majority of drivers will be able to make use of is small. Plus, solar charging represents an additional investment if you don't already have the panels installed."
If vehicle owners have already invested in an EV, the ability to power your own home through the car's battery will bring additional benefits to an existing investment.
As an example – a typical EV driver would be able to charge their EV overnight on an off-peak electricity rate, use it during the day for their commute, and then use a proportion of the car's battery to power the home during peak hours (around 4-7pm).
Morgan added: "This would effectively mean cooking and other activities that cannot be easily shifted to be used overnight at an off-peak rate are using the cheaper energy stored in the vehicle from the previous night. When the off-peak price kicks in again, the vehicle will be recharged."
There are wider implications for the National Grid too because it will reduce pressure on the grid to generate huge amounts of extra electricity during peak demand.
Morgan said: "There are potentially millions of EV batteries that will be sat on driveways that could be a huge resource for homeowners and the nation at large. Not to mention the fact that a lot of effort, resources, and energy has gone into producing those batteries in the first place, so it's wise that we make the most of them."
Hollingworth said the hike in energy prices will continue to have a massive impact on people's lives into 2023 and beyond.
He said there will likely be more variation in prices across the day, week and season so smart charging technology will be essential.
Hollingworth said: "Now, more than ever, it is important to optimise the costs of charging.
"This means being on EV specific tariffs which offer lower costs of charging, usually overnight.
"The direction of travel is that these newer tariffs are much more complicated and require deeper integration with the energy supplier to allow them to minimise their costs, so the savings can be passed on."
It will mean charger manufacturers need to support this kind of integration, but perhaps more importantly customers will need their installation company to help educate them on what is becoming a more complicated environment.
Hollingworth said: "I think in a year's time we will start to see movement for customers on V2G and the V2H space.
"It promises not just cheaper miles for the car, but huge savings on the household energy bill too. Household battery sales have absolutely boomed this year. Car batteries are much, much bigger."
Rogerson and O'Donoghue also agreed "the next big thing" is all about home energy integration, V2G and automation, but beyond this there are also emerging technologies like wireless charging and low power DC that will make better use of home batteries and solar systems.
O'Donoghue said: "Currently EVs have onboard chargers that convert AC to DC. If the energy could be used without having to be converted, coupled with the rise of solar integration, that would be a real game changer for technology and energy prices."
Will new innovations mean replacing your current home charger?

Morgan said that it's likely customers will have to think about investing in new home chargers in the future to take advantage of the savings to be made from V2G and V2H.
However, this is still a few years away at least, so it's something to think about on the way to 2030 as more and more drivers make the switch to zero emissions.
He said: "V2G and V2H is not overly complicated technology but is certainly a step up on the smart home EV chargers sold today.
"The technology is available now and being tested across the country, so I expect it to become more commonplace in the next three to five years."
Hollingworth said getting smart with energy tariffs can be done through software updates and will not affect the installed hardware.
He advised customers to choose a charger manufacturer with a track record of innovation and working with energy suppliers so they can be more confident the charger they have chosen will be supported in the future.
However, V2G is a "radically different" hardware approach and these units will be more expensive than current smart chargers on the market, although still much cheaper than installing a separate home battery storage solution.
Rogerson expects V2G innovations will mean a complete new charger for the majority of chargers.
O'Donoghue said there will be a mix of software and hardware changes as the new V2G and V2H technology is introduced.
He said: "If we focus on the whole home integration and automation, this will need small hardware pieces, coupled with a lot of work on the software.
"As for the switch to DC for home, this will mean new hardware all round."
Compare EV energy tariffs
Save £100's on your home charging costs by switching to the right EV energy tariff
What will be more useful - solar integration or V2H/V2G?

Rogerson said that if you already have a solar array installed at home, being able to integrate this with your EV is a big benefit.
He said: "Being able to divert solar energy to your EV should be a standard on all chargers in my opinion.
"It's pretty much a software implementation with an external piece of hardware so if it's easy to include as an option, include it."
V2G isn't quite as straightforward, but will be important for homeowners that haven't opted to invest in solar.
Rogerson said: "Home chargers that do both solar and V2G as an option at install will be common I suspect in the future, just like solar divert now has several offerings."
O'Donoghue is firmly on the side of solar as being far more useful for EV drivers in the future.
He said: "Microgeneration (the small-scale generation of energy by households) is a lot more powerful than pulling some load temporarily from the car. And it will protect the car's batteries more this way too."
Hollingworth doesn't think V2G will become mainstream for a few years due to pricing, but this will change in time.
He said a very important point is that there are "far more savings to be achieved" from a smart charger with an intelligent tariff compared with charging an EV from solar.
Hollingworth said: "Customers usually only get a small proportion of their annual miles supplied from the sun.
"Selecting a charging manufacturer that supports advanced tariffs will save much more money."
Morgan said it's debatable how much solar charging is possible for most drivers, as the vehicle is likely to be away from the home during the sunniest points of the day.
However, he said it's a nice to have as an added bonus and the technology does already expect, whereas V2H chargers are still in their infancy.
Charging with solar panels
Thinking about getting solar panels to assist with charging your electric vehicle? We've written a guide to help you with your decision.
What is the future of home EV charging for those without a driveway?

This is one of those stumbling blocks that some car owners can't quite get past that haven't yet made the switch to an EV.
If you don't have a driveway for home charging, what are your options other than heading out to charge on the public charging network?
Hollingworth wants to see some movement from local authorities to allow homeowners to put narrow cable channels into the pavement to avoid tripping hazards for charging cables for on-street parking.
He said other cost effective options for those that can't park outside their own home are "thin on the ground".
Hollingworth predicts a hybrid between public and domestic charging will be needed for those without access to off-street parking in order to avoid high energy costs.
O'Donoghue expects a combination of improved kerbside infrastructure and increased availability of workplace and public charging to be some of the biggest helps.
The potential for a move away from car ownership and to an increase in car sharing could also provide another solution.
O'Donoghue said: "Companies like ZipCar already have dedicated charging bays on residential roads that mean drivers can rent an EV and park it and charge close to their destination.
"Car sharing has the potential to reduce the number of cars needed and keeps charging
simple. It will just become a normal part of the flow of using a hired car."
Morgan said there are solutions for home charging for those without a driveway, but they're not as straightforward for EV drivers compared with having off-street parking.
Innovative solutions are being developed, but the challenge faced by homeowners with no driveway is that it's rare to have dedicated parking at the kerbside.
Morgan added: "I suspect there will need to be a more communal approach where there is a plentiful supply of charge points on the street that drivers can use.
"The key will be ensuring drivers can benefit from "home charging" prices regardless of whether they manage to park outside their home or further up the street, otherwise a major benefit of home charging, which is the fact it's much more cost effective to charge, will be lost."