Plugged In with EV Man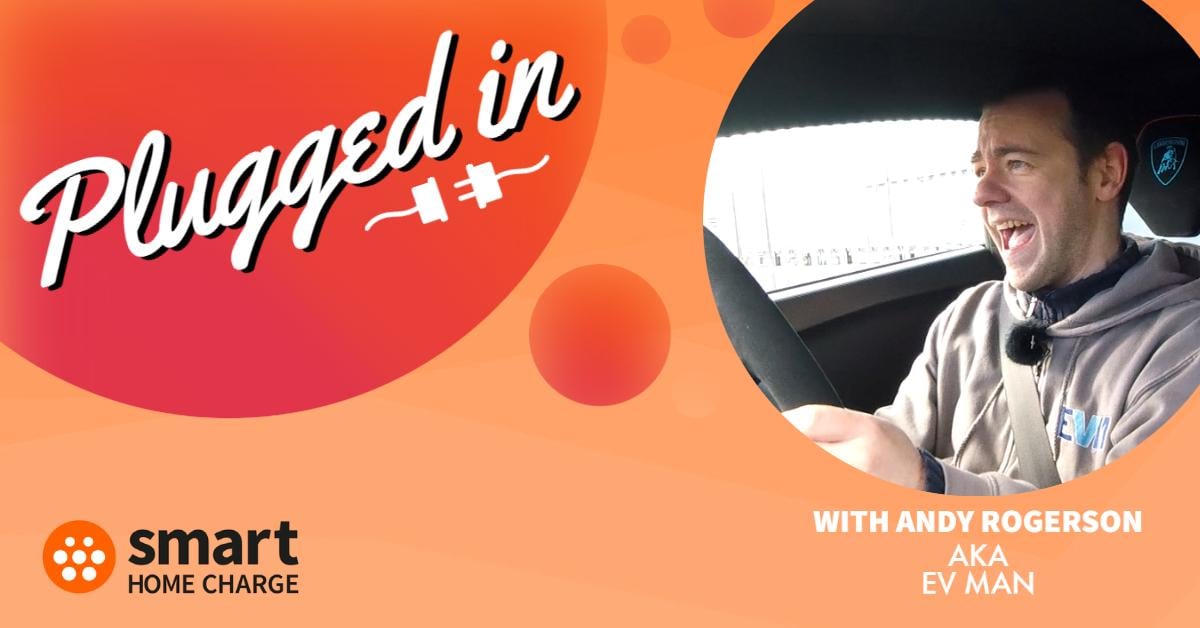 Andy Rogerson, better known as the YouTuber EV Man has built a dedicated following based on his honest, no-nonsense style. We speak to him about the challenges of having a job and running a YouTube channel as well as maintaining his authenticity in the face of growing popularity.
Aside from the hugely successful Fully Charged, there are a handful of alternative, but still popular, electric vehicle and clean-energy-focused YouTube channels. They range from the smaller, but surprisingly well-produced to the more rudimentary but charming and, ultimately more personable, vlogger style channels. And that is more or less where EV Man sits - usually in a dark grey hoodie and matching jeans.
Despite his no-nonsense approach, EV Man has had an impressive trajectory when it comes to the growth of the YouTube channel which started in 2015. There's been no sudden rise to fame, just a consistent output that has resulted in a loyal, like-minded audience that results in an excellent rapport with his subscribers.
From Yorkshire to LA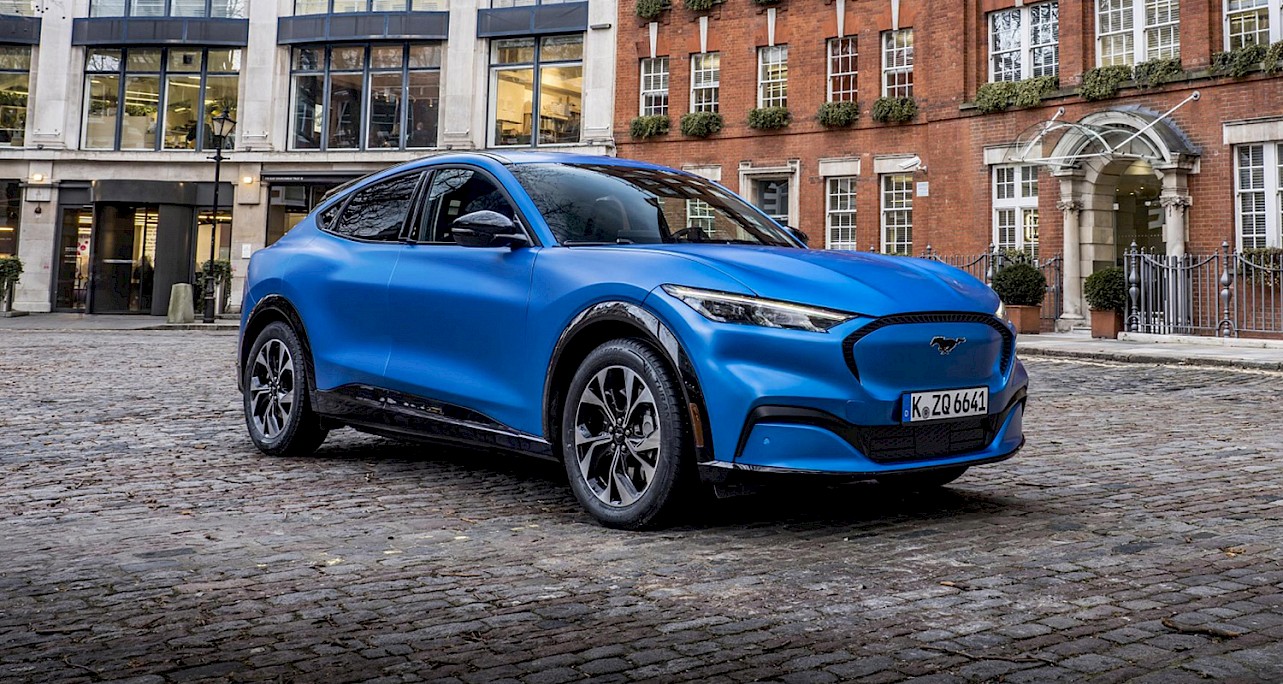 In fact, it's that high engagement that caught the eye of the marketing bods at Ford. So much so that Andy received a VIP invite to the world premiere of the Mustang Mach-E in Los Angeles – an all-expenses covered trip, including a first-class flight, and all at a time when the channel was "only" hovering around 20,000 subscribers.
"I asked them at the time 'why me?' because I couldn't understand it. I was a small-time YouTuber from Keighley in Yorkshire so it definitely came as a surprise. Ford told me their data showed my channel had a really high engagement rate with my audience and that was pretty much the reason. It was an incredible trip, but nerve-wracking too because I only had 10 minutes on stage to film with the Mach-E and I didn't know if the footage had worked until I got back to the hotel."
I'm speaking to Andy during his break. As an IT technician and consultant, he's in the middle of planning the IT setup for a number of schools. So, not a full-time YouTuber then?
"No! I get asked this a lot and many people assume it's my full-time role and that I'm making a lot of money from it."
Andy, who is known to his YouTube subscribers as EVM (Electric Vehicle Man), has now surpassed the 50,000 subscriber mark so I ask him if he would want to go full time.
"I'm at the stage where I could probably do it and cover our costs, but we wouldn't be flush with cash in any way. I could get away with it, but I love my job and I've been at the company for over 20 years and have made a lot of friends there, including Harry who is on the channel, so I would miss it if I left."
Browse our product range
We have a range of chargers to suit most people's charging needs and budgets. Browse our range and click "request a quote" to get started.
If it's crap, then say so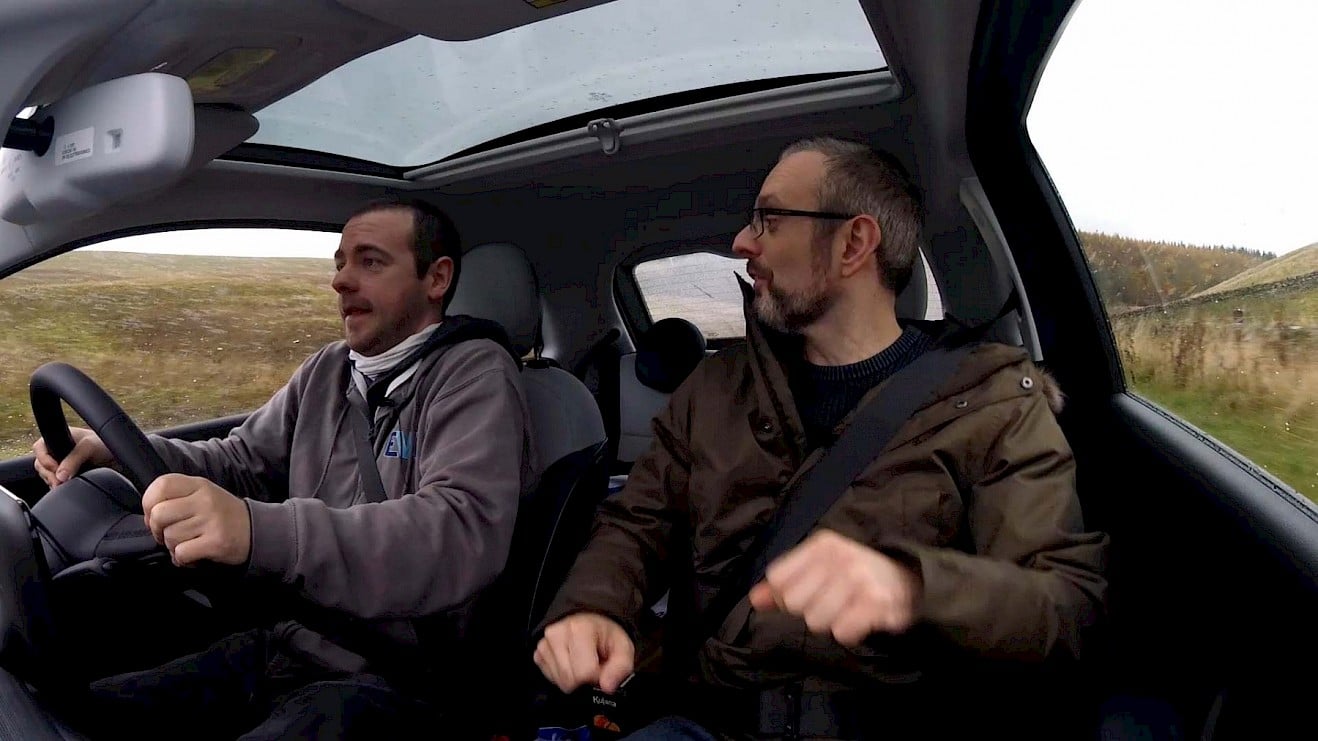 Andy tells me the other benefit of YouTube not being his main source of income is that he can more easily maintain his "forthright opinions" and has less stress because of it.
"Because I'm not paying the mortgage with YouTube, I feel a lot more free with my opinions which is ultimately what I and the viewers enjoy – being able to provide honest advice and reviews.
"If I wanted, I could stop the channel tomorrow and I'd be fine, so there's a lot less pressure on me financially and mentally. I would definitely miss the benefits the channel brings and I'd miss out on the fun stuff, but in terms of life… it would just carry on."
It's clear he values the ability to tell things as they are in his content.
"If something is crap," he explains "then I'll say it's crap. Perhaps not in those exact words, but I will also always back it with some sort of evidence. I know a few people on YouTube who won't say anything negative about a product or car or whatever because they're worried they won't be invited back if it's a press event or something. That's the one thing I've said I would never do – the day I do that is the day I lose my credibility."
Take a look at our vehicle guides
If you're still choosing an electric or plug-in hybrid vehicle, take a look at our vehicle guides for some more information before deciding
Terry Wogan approach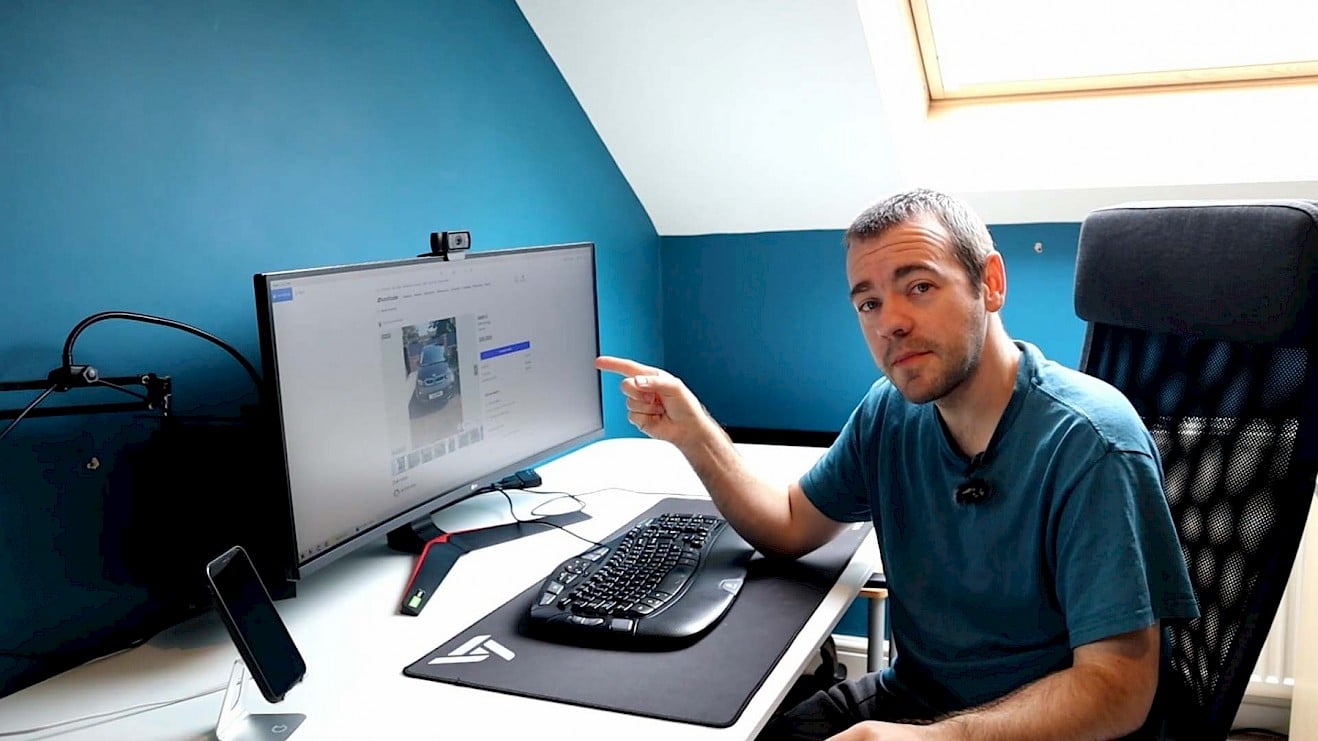 Andy is really no different in real life to the man you see in the videos - friendly and down to earth. The same forthrightness you see in his videos comes through on the call, but not in an aggressive or threatening way whatsoever. Andy has a way of putting across his point without any waffle or flowery bits, but at the same time making it feel like you're talking to a friend who you've known for years. Perhaps it's the Yorkshire accent - the Plusnet frontman may want to look over his shoulder!
So, what's the secret behind his success? Andy, rather timidly for once, points to the influence of broadcaster Terry Wogan.
"Terry Wogan said he always did his radio show as if he was talking to a single person. He wasn't talking to an audience, nor the producer opposite. He always imagined that he was talking to one listener in front of him.
"I sort of do the same thing. I imagine if you and I were stood in the pub and you said 'you've got that Mach-E, what's it like?'. That's how I present the videos."
Andy goes on to explain how some sponsors work with him specifically because of this approach.
"One sponsor said that watching a video from another well-known EV YouTube channel feels like a person in a suit telling me what something is like, whereas my approach is more like it's from a peer or friend."
Keeping it real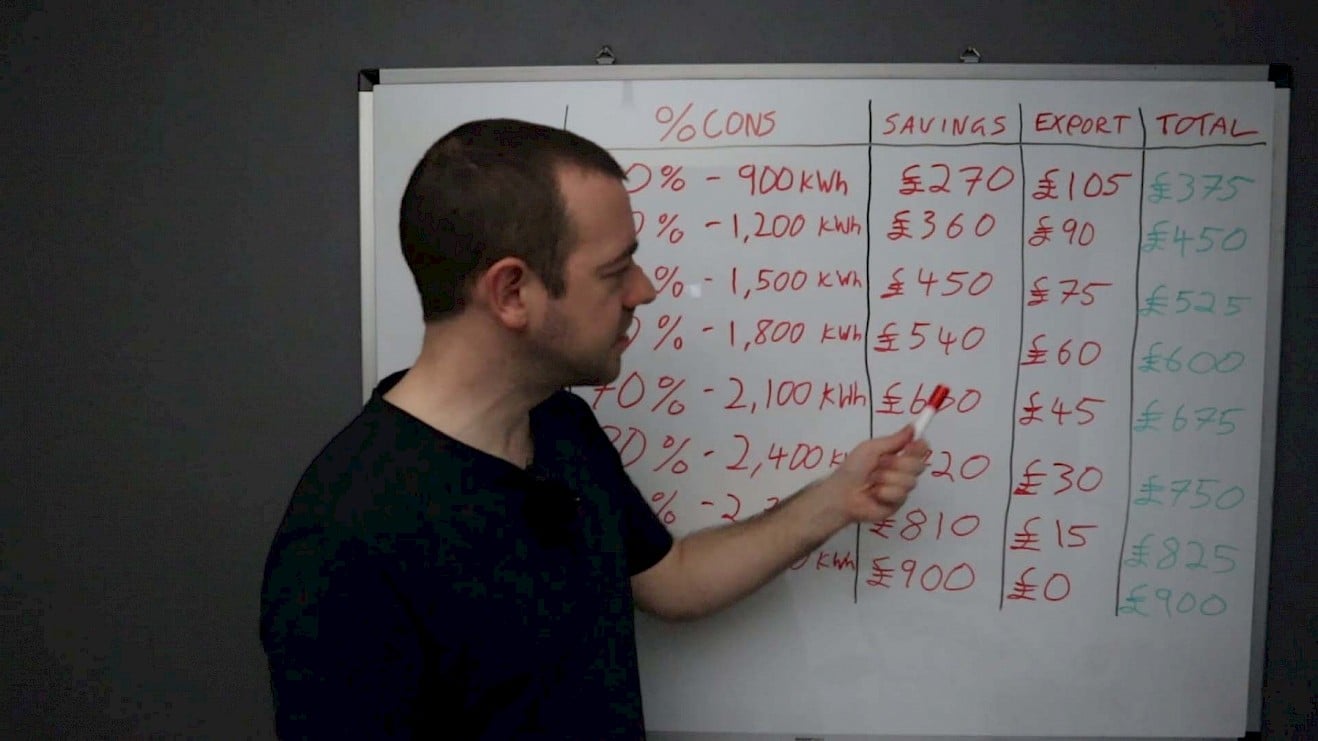 Clearly, Andy's no-nonsense advice and approach isn't for everyone but there's a sizeable audience out there who love the Yorkshireman's "say what you see" style.
While camera and audio equipment have been upgraded over the years, the channel hasn't lost its vlogger style with Andy deliberately avoiding an "over produced" look and eschewing any attempt to dress up for the camera.
"You've just got to get rid of the bullsh*t. This is my opinion, I'm not saying I'm a genius or a massive car expert, or a journalist. I'm just telling you what it's like from my perspective.
"Whereas I've seen journalists at events before who drive a car for 20 minutes, jot down some notes and then you see a full review in the tabloids or something – it's not possible to do it justice from a 20-minute drive. Sure, we only get given a 20-minute drive sometimes, but let's not call it a review, let's be honest about what happened."
As a result of this sort of glimpse behind the scenes of the automotive world, Andy tells me there are very few automotive journalists whose opinion he now trusts.
"Jonny Smith is one exception and I think he is one of the best in terms of getting the balance right and I trust his judgement– the same would go for Chris Harris - because they are properly nuts about cars and that passion comes across. And they aren't afraid to say if it's something is a bit rubbish and aren't worried about what the PR person might say afterwards."
Waiting to be tripped up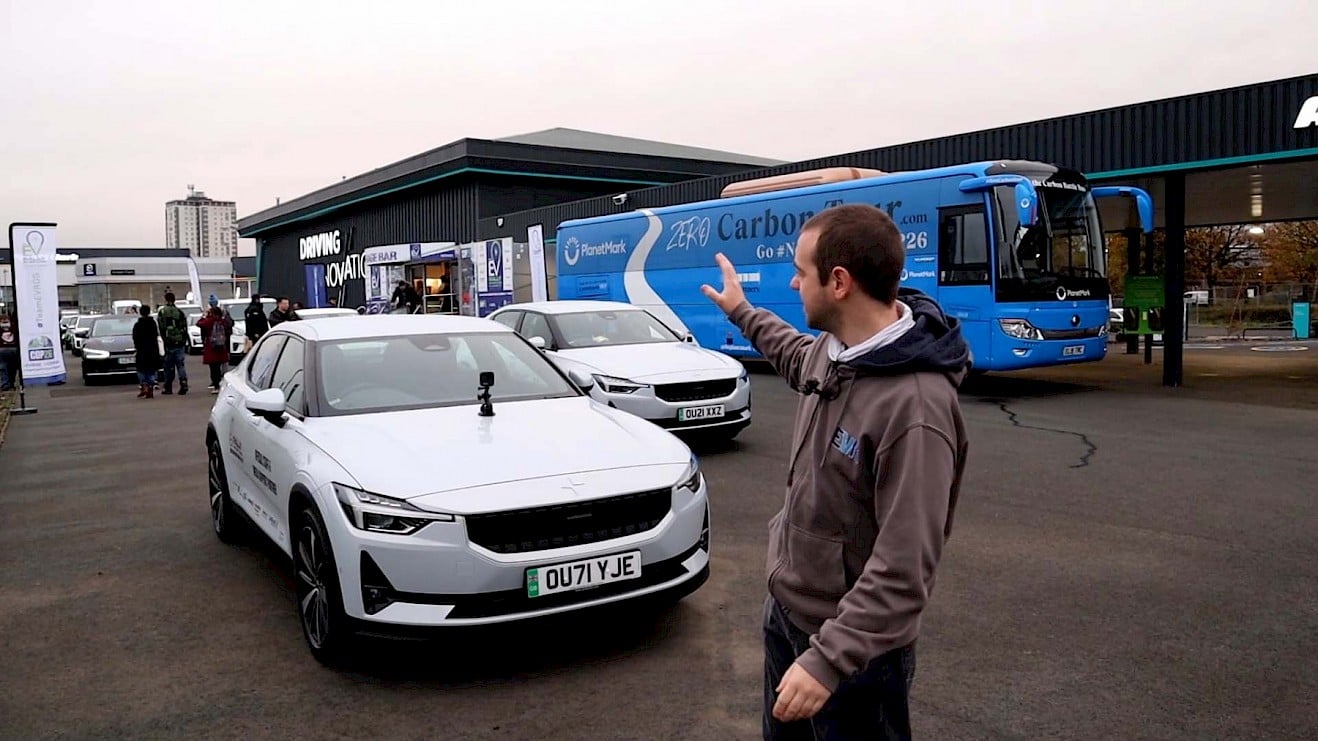 The EV Man Official Website
In a world where it is very easy to be widely criticised by a bunch of strangers, I ask Andy if he is worried that his outspoken nature will cause him problems.
He says he doesn't lose sleep over it but it's clear there is some frustration over the amount of damage one person can do to a YouTuber or blogger.
Andy gives an example where one viewer misinterpreted a joke made on a live stream, but ended up complaining to his sponsor.
"I didn't lose anything, but ultimately one minor, completely innocent, comment that was not intended to be insulting to anyone or anything led to a load of crap behind the scenes and I could have lost a sponsorship because of that. Luckily, YouTube isn't my full-time job, but for some people that is their career on the line."
He admits, however, that he gives extra thought to jokes and comments he makes on Twitter or that he will cut out some clips for YouTube "just in case one person complains".
"But I think the majority of people have a sense of humour and ultimately, in the worst case scenario, it isn't my main source of income and I won't lose my house which is why I can be so honest with my EV reviews and tips."
Harder than it seems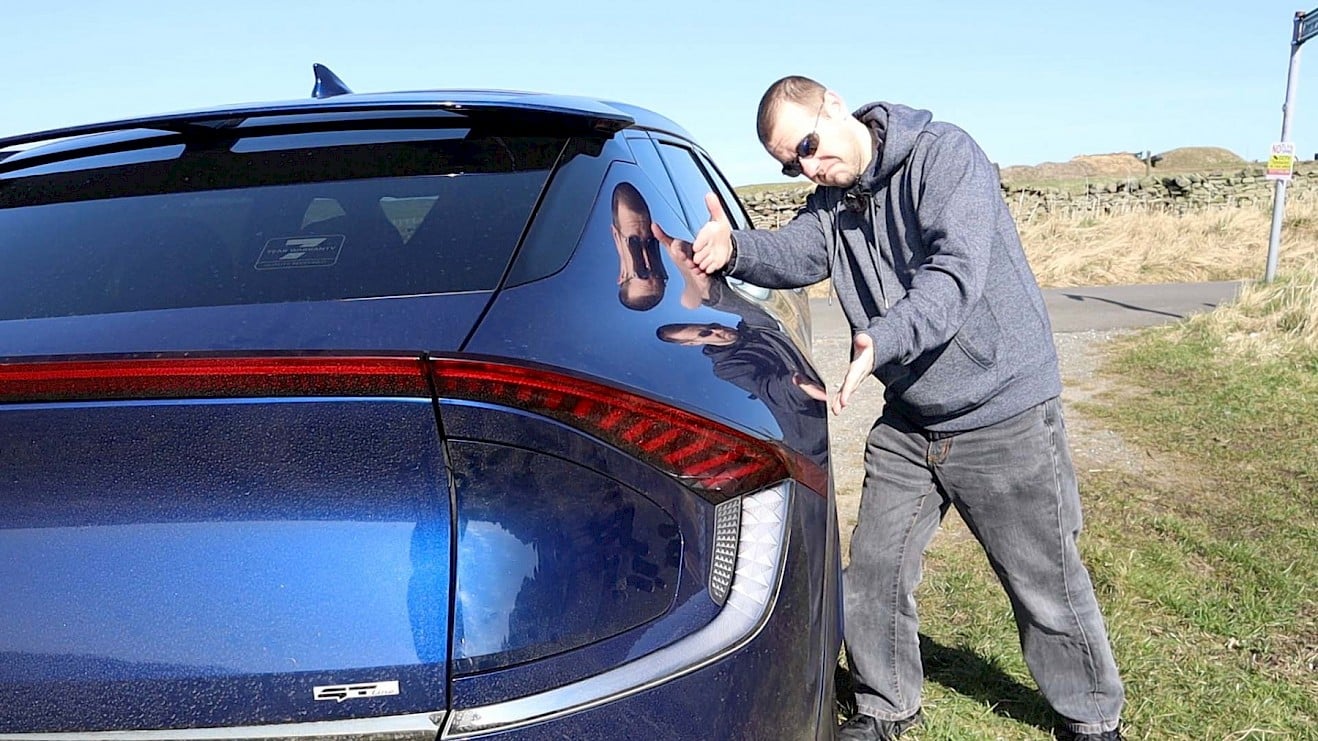 The life of a YouTuber is so often seen as an easy and glamorous one, despite only a very small percentage of content producers on the platform earning a good wage.
Even the big YouTube stars will tell you how much effort goes on behind the scenes and is never really appreciated by the audience who only see the end result.
Andy also has to manage a full-time job and balance work and YouTube with family life, ensuring he spends quality time with his wife and young daughter.
"The input varies from week to week. Obviously the 'whiteboard' videos are easier to produce versus a full car review but they actually take much more planning and research to make sure I get the information right.
"It's all about the planning, so if I need to travel somewhere to drive a car I will try to get multiple videos from that trip – those ones usually mean a day out and the entire evening editing and some more over the weekend. They're usually a long day driving too for just a short filming session, but the toughest part is I don't know if it's even worked until I get home!"
I push for an average per week. He says between two and two-and-a-half days one week and perhaps half a day the following week.
Luckily Andy says his wife Lorna, who has made a number of cameos, has been very supportive.
Do EVs still make financial sense?
Being a frugal Yorkshireman (and proud!), the rise in electricity prices for both home charging and public charging must be a concern. Would Andy still get an electric car now?
"The whole reason I got my first EV in 2015 was because it made financial sense. It was not for environmental reasons and I've never told anyone to go EV for those reasons.
"As for the current situation with the energy crisis? If you can charge at home then the difference in running costs between an EV and a petrol/diesel is still considerable. You need to pick the right energy provider for your home electricity but it's still cheaper. If you have to use public chargers then the difference is not so big."
Andy says he has actually received quite a lot of flak for owning an EV and being able to charge at home, as well as benefitting from a solar array and battery storage system.
"People have suggested I am in an ivory tower with my driveway when I talk about home charging and so on. But the way I see it is I have paid more for my driveway when I bought the house. And even so what do these people want me to do about it? Some people have and some people don't – I didn't have a driveway until I was 30. It's just the real world. Just because I can't afford a swimming pool but other people can, it doesn't mean swimming pools are a bad thing."
From dashcam videos to…?
Newer subscribers may not even be aware that the EVM channel has gone through a number of changes, originally being somewhere for Andy to upload his dashcam footage as well as the name starting out as Electric Leaf Man.
A lot of the earlier videos were purely about living with a Nissan Leaf as well as the odd EV review when Andy got access to them.
Nowadays the channel is full of car reviews, data-led tip videos, opinion pieces, and Grand Tour-esque adventures but also a lot of content focusing on home energy. Is this the new direction for EV Man?
"The home energy stuff is some of the most popular content on the channel, so clearly people are interested and EVs are often said to be a bit of a gateway drug to other clean-energy related products like solar so it all fits together nicely."
Will he change the channel's name again?
"I get a few people asking if I'm going to change my name again because around half the stuff I do now is home energy related, such as on solar or battery storage. But EVM feels like a brand now and it's what people know me as so I won't be changing the name."
You can watch EV Man's videos and subcribe to the YouTube channel here.