Plugged In: Lotus truly does have an electric dream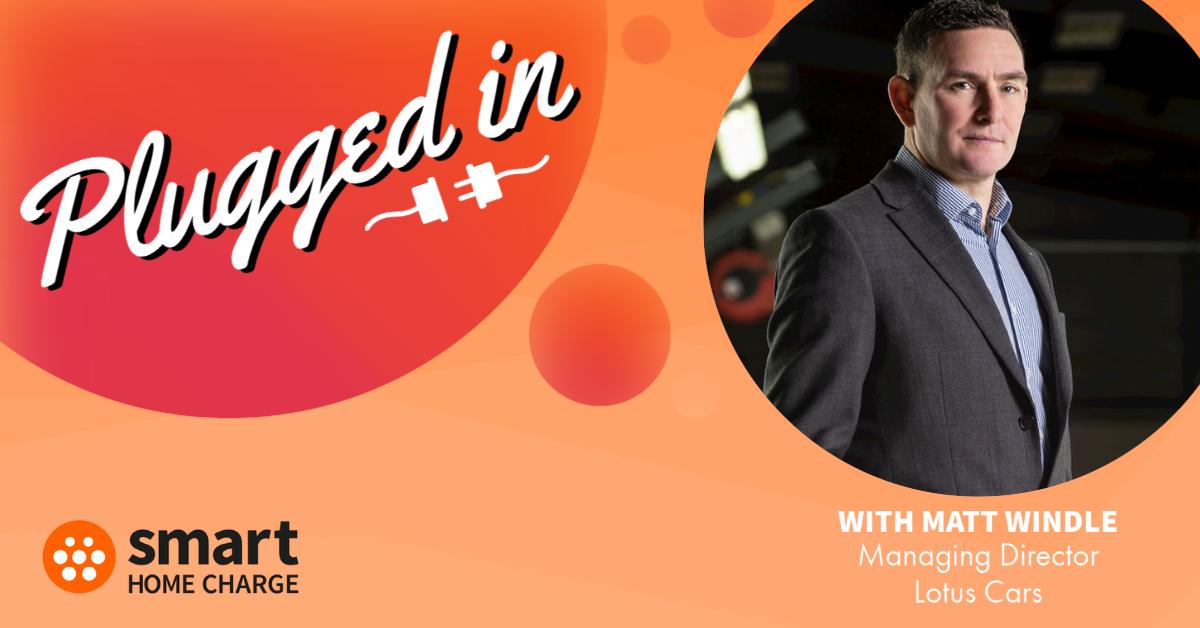 They're tearing up the sports car rule book and on the brink of being innovative pioneers all over again. With the clock ticking towards becoming fully electric, Managing Director Matt Windle is excited about what the next chapter holds for Lotus Cars
I wonder what the brains behind Lotus Cars - Colin Chapman - would have made of the electric car revolution? Imagine him walking into his workshop in 1952 , faced with a sports car that depended solely on electricity for its energy source…would today's world of electric vehicles have ever entered his mind?
He was recognised as a brilliant engineer; a man who relished rolling up his sleeves and diving under the bonnet of a car with its engine ticking over, amid a potent smell of petrol, oil and exhaust fumes, and an echoing clanking of a spanner bouncing off a cold floor. The thought of an electric powertrain in a sports car would have probably been nothing short of ridiculous to him back then. Electricity was something that powered the living room lightbulb, not energising a fast and powerful sports car.
Fast forward to the 21st Century and Lotus is fully embracing the electric vehicle ethos. Managing Director of Lotus Cars and its engineering division Matt Windle has a mission and a long-term plan to be at the very forefront of innovation. Becoming the first major sports car manufacturer to go fully electric certainly lays down a benchmark for the rest of the competition to follow.
"Back in 2017/18, we wanted to come up with a strategy that would last for at least 10 years. As we sat developing the product strategy, we decided for several reasons, it would be difficult to not include electric vehicles into our future," he explains.
"When we talked about what that meant in much more detail, we decided that actually going fully electric would be the way to go. So, we set out our plans to bring people in with the expertise and capability to prepare us for an electric future."
Lotus, however, prides itself on being synonymous with innovation, especially in design. But as Windle points out, it's a company that values morality too. The environment and social concerns are always high on the list of its priorities he says.
"As always in the past, Lotus has been recognised as an innovative company, always looking to do things differently. We felt that this would give us an opportunity to put Lotus back at the forefront of automotive design. And that includes being aware of all the environmental and social issues too. We know our agenda, and this is the route we're taking, to be a totally net zero company," he said.
It's a fact that Lotus will certainly be the first sports car manufacturer to go fully electric, so surely that will be putting a legacy in place. Being pioneers will no doubt spark other sports car manufactures to follow suit, won't it?
"We certainly will be the first sports car manufacturer to go fully electric," says Windle. "I suppose we're not looking to leave a legacy; I simply think we are a nimble, innovative company and we've had loads of ideas bubbling away for many years. And now that we've got the investment and backers to go with our plans, we're now able to put those ideas into reality."
Exciting innovation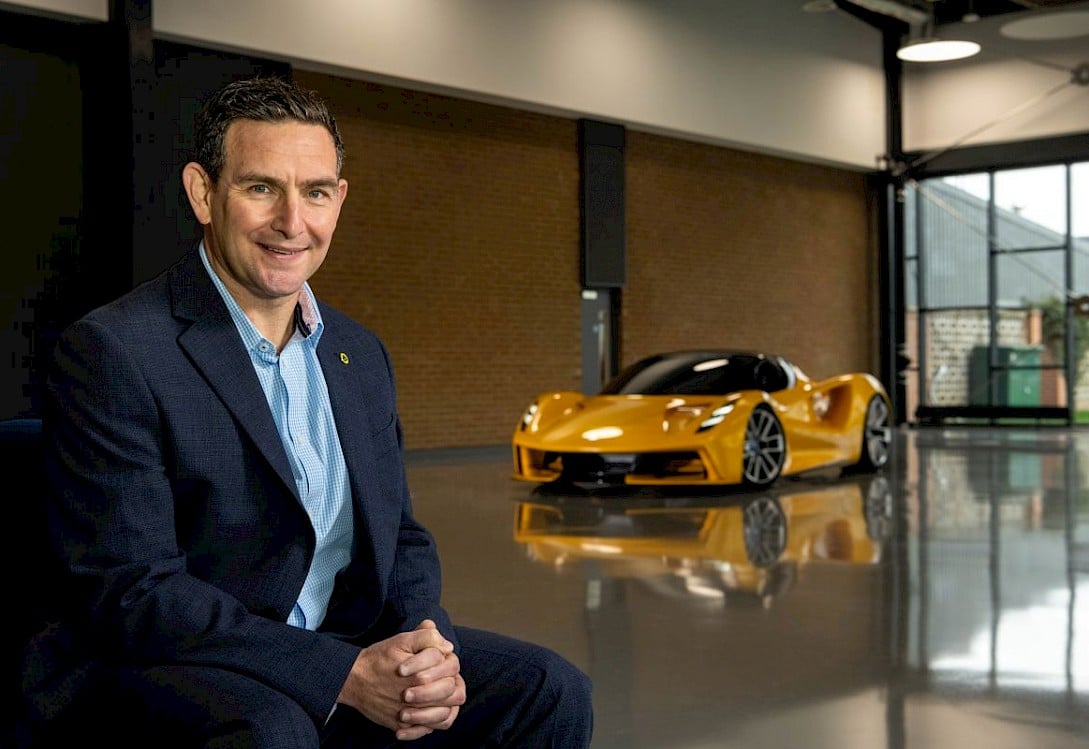 The most recent innovation to come out of the Lotus factory, and one that they're excited about and extremely proud of, is Project LEVA. The Lightweight Electric Vehicle Chassis was unveiled at the Low Carbon Vehicle event staged by CENEX at Millbrook Proving Ground in Bedfordshire.
It's a new rear structure that is incredibly lightweight. In fact, it's 37% lighter than the one currently fitted to the Lotus Emira V6. It's a new chassis that is completely adaptable and will enable a whole host of adjustments including various wheelbase lengths, battery sizes and configurations. The single architecture can suit two types of battery configurations such as 'Chest' layout, where modules are stacked vertically behind two seats, and 'Slab' layout, where modules are integrated horizontally under the cabin, referred to as a 'Skateboard powerpack layout'.
"Project LEVA is a flexible platform that we developed to make a battery electric package, be it a skateboard package or a chest package, which shows that we are always thinking how we can be flexible with our customers in mind," says Windle.
Lotus has traditionally been a producer of high performance, but relatively low volume, sports cars. However, it's interesting to learn the numbers of vehicles leaving the Hethel facility in Norfolk are on the increase and low-riding sports cars might not be the only model type rolling off the production line in future.
"Off the LEVA platform, we're already talking to another OEM. With the Emira, we're going to produce 1,600 cars this year and that will rise to between 5,000-7,000 units per year. I would like those numbers to rise even further, into the region of 10,000," explains Windle.
"We're always developing products, but my ultimate aim for Lotus within the UK is to become a multi-model platform, and that's why we designed the LEVA package, to make it flexible enough to give us a range of different products."
Mixed reactions
The decision by Lotus to go fully electric hasn't gone down quite as well as the company would have hoped. However, Windle is aware of the company's vision and the ability to evolve is paramount.
"Reactions and feedback have been mixed if I'm honest. Some people feel that with the history we have and the direction we're now heading, that it's the wrong direction. Others just plainly feel that battery electrics are the wrong way to go anyway, so it doesn't matter whether Lotus is doing it or not," he said.
Lotus certainly wouldn't be the brand it is today without Chapman's innovation and determination to continually push boundaries, and Windle recognises this perfectly.
"However, my argument is if you go right back to Chapman's time he was always looking to innovate and to do things differently, and that's exactly what we're doing now.
"I would argue that Chapman was pretty agnostic to powertrain solutions too. He simply wanted something that would best suit the package and way of the product. Even Chapman's son Clive, who we still maintain contact with, said his father would be incredibly proud of what we're doing and achieving now, simply because we are looking to go to new areas. That's simply Lotus being pioneering; that's how we've always been," added Windle.
That doesn't mean that the Lotus won't be giving the internal combustion engine a last hurrah, though, before switching to a fully electric carmaker. The Emira V6 is every bit the lightweight sports car offering thrills and spills that fans have come to expect. It's a fitting swansong to end an era, but crucially also marks the start of a new one for the British brand.
"Production of the Emira will begin in March 2022 and we reckon around 2025 or 2026 we'll see the last ICE models rolling off. However, in some markets there may be an opportunity to extend the timeframe depending on how the demand pans out, among other things. But certainly by 2025, the switchover will see us being fully operational with Type 135, our all-electric sports car," said Windle.
Lotus is an iconic institution - a fact Windle clearly recognises - but the desire to innovate is overwhelming and, together with the need for most carmakers to go fully electric, the final new internal combustion engine vehicle to come out of Hethel was perhaps inevitable.