Manufacturer guide: Ohme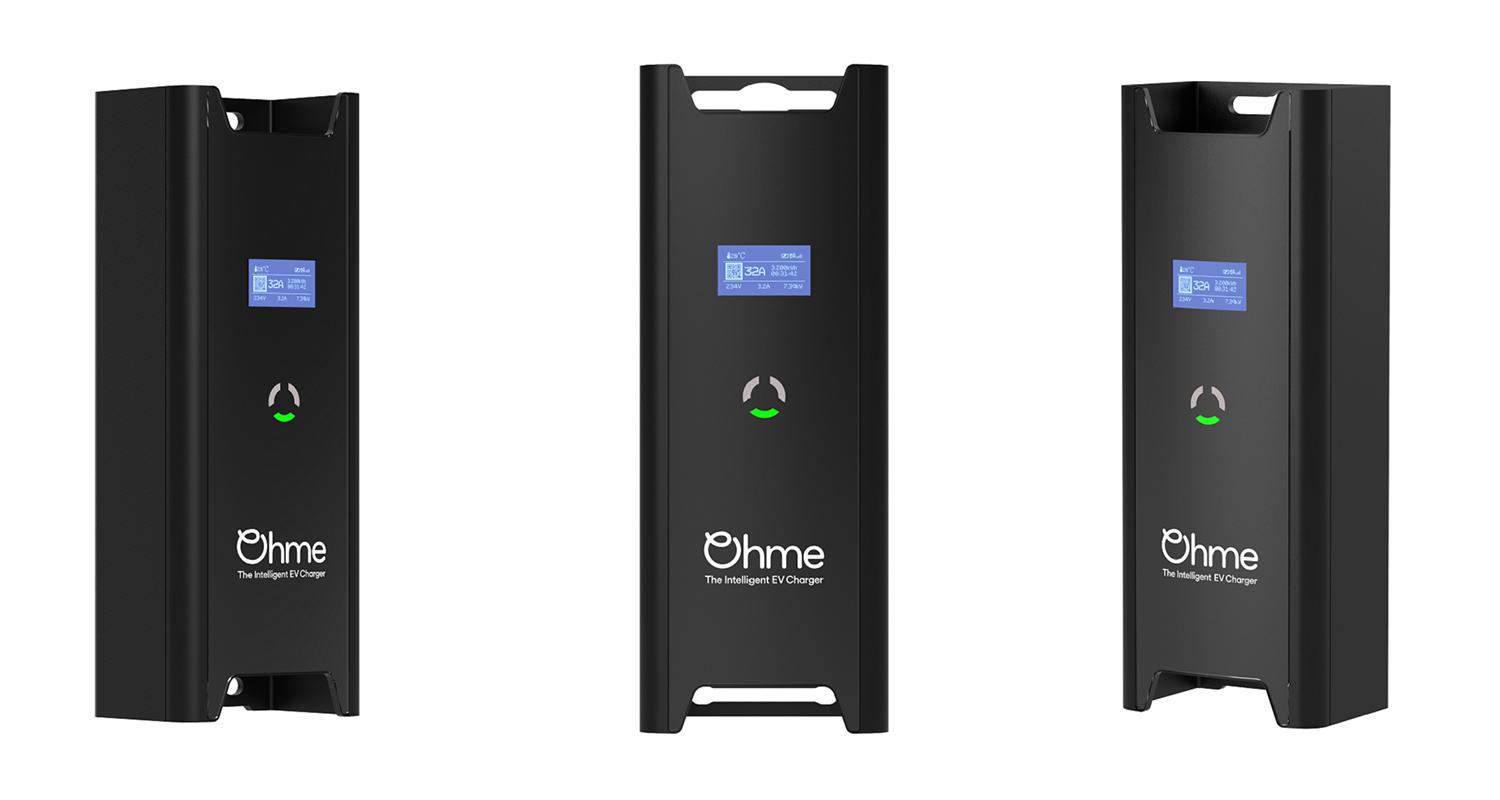 Ohme is one of the younger charger manufacturers, but it's backed by real pedigree and arguably has the most sophisticated software on the market. Here's all you need to know about Ohme.
Who is Ohme?
The Ohme family of chargers were developed by Ohme Technologies Ltd. The firm was founded by CEO David Watson and has a bright team of developers and directors.
The London-based company was formed in 2017 with the aim of providing intelligent, low cost, user-friendly technology to unlock the benefits of electric vehicle home charging. The company was founded by leading experts in electric vehicles, the energy sector and software development.
Smart Home Charge works closely with Ohme and we can confirm they are a very intelligent (and friendly!) team.
What chargers does Ohme manufacture?
Ohme has developed a range of products that centre around one main concept – to make charging intelligent and simple. The products on offer include:
Type 1 and Type 2 Ohme Home (previously known as the Intelligent Wall Charger)
Type 1 and Type 2 Ohme Go Smart Charging Cable
Type 1 and Type 2 Ohme Go Smart Charging Cable (Commando)
Type 1 and Type 2 Ohme Go Charging Cable (3-pin)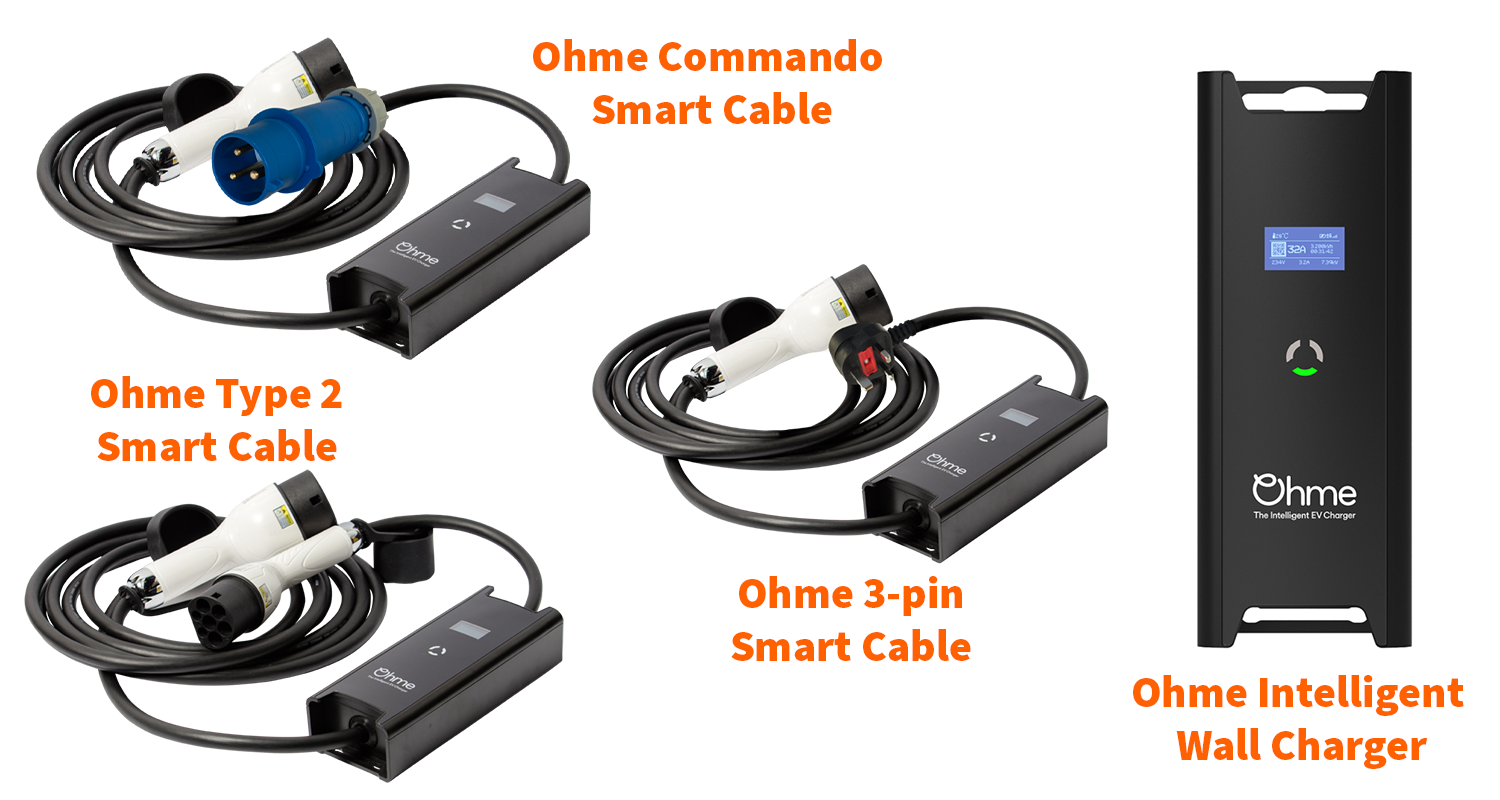 All Ohme products connect to its intelligent cloud-based platform to make home charging simple and cheap. This is made all the more accessible by the easy-to-use Ohme app, which you can find more details on below.
The flagship product, and the one we sell and install, is the Ohme Home Pro. This charger works with every vehicle that has a Type 2 charging port.
Ohme also manufacture a range of smart charging cables – these work in the same way as the Intelligent Wall Charger, but they transform a traditional "dumb" charging unit into a smart one capable of using your cheapest electricity rates automatically. This is extremely handy if you already have an old charger installed, but you'd like to upgrade it to a smart unit.
Get an Ohme Home Pro quote
Whether you need a full installation or just want to buy the charger on its own, order your Ohme Home Pro today.
What's the best thing about Ohme chargers?
Energy cost savings
The best thing about Ohme chargers is undoubtedly the energy savings when charging your car. It could save you up to £300 a year on charging compared to a standard variable tariff. This is why we think the Ohme devices are such game changers.
To help you save this sort of money, the Ohme automatically works with a "plunge-price" tariff such as Octopus Agile.
Tariffs such as these have more regular price changes as electricity demand peaks and troughs throughout the day. With Octopus Agile, the electricity price changes every 30 minutes depending on how much demand there is on the Grid. This means you can have really cheap electricity during the day if demand is low, as well as at night.
The Ohme has access to these price changes, so it can automatically charge at the cheapest rates - whether that is at 3pm in the afternoon or 3am in the morning. Although Ohme can work with all fixed tariffs, these are the suppliers that Ohme can automatically help you save money with and include:
British Gas
EDF Energy
Octopus Energy
Scottish Power
Any generic Economy7 tariff
Compare EV energy tariffs
Compare the UK's most popular home EV energy tariffs using our EV energy tariff comparison tool
3G/4G connectivity
Most chargers use WiFi to connect to the internet and send and receive the data they need. But the Ohme Intelligent Wall Charger isn't most chargers. It uses 3G and 4G signals for its data connection - this is more consistent and reliable than most WiFi setups. Plus, there is no extra cost for the 3G and 4G data - it's all included.
Super smart software
As mentioned, the Ohme software is capable of automatically charging when your electricity prices are low or you can give the Ohme a "target charge". What this means is you get a simple life because you set the charge you want by a certain time – 80% by 7am every morning for example – and the rest is taken care of. In fact, the Ohme charger will automatically select the cheapest times to charge while ensuring it reaches the charging target you have set.
Green energy
As well as telling the Ohme to automatically charge at the cheapest rates, you can also tell it to charge when grid energy is greenest. At any given time, the Ohme Intelligent Wall Charger know how much carbon is in the grid - in other words, how much energy is coming from dirtier sources such as coal or gas, or if there is a lot of energy being produced by renewables such as wind or solar. Choose this option and Ohme will set about reaching your desired charge target while also being environmentally conscious and charging when the grid is green.
Slim profile
The charging units themselves are small and slim in profile, which is fantastic if you're after something a little more discreet. As well as the intelligent cloud-based software and app, its looks also set the Ohme apart. Measuring at just under 240mm in height and 89mm in width, this charger is one of the slimmest on the market.
Is there an Ohme app?
Yes. If the Ohme intelligent cloud-based software is the brain, then the Ohme App is the heart and soul where all major charging options are available.
The Ohme app is easily paired with your charger by scanning the QR code on the side of the unit, after which you select your vehicle and energy tariff.
This is so the Ohme's smart software can determine when the cheapest energy is available on your tariff and charge accordingly, as well as understand the max capacity of your vehicle's battery.
The app allows you to set a charge schedules. This might include setting a "target" and time, so you can be sure your vehicle has 80% charge by 7am on weekdays, for example. You can even set up separate charging behaviours, such as "Morning Commute" or "Weekend Driving" or "Family Trip" that have distinct charging characteristics like charging to 100% if needed.
Of course, not everything runs by a schedule and the Ohme app allows you to start and stop charging as you see fit, or even top up your car battery as quick as possible by selecting "Max Charge".
The Ohme App is available to download for Apple devices and Android devices.

The Ohme Intelligent Wall Charger is one of our lowest-priced chargers, but don't let that fool you into thinking it's a bargain-basement product.
The charger is of high quality build, is durable and has some of the most advanced software and app functionality available on the market.