Plugged In - Kate Tyrrell, Co-Founder ChargeSafe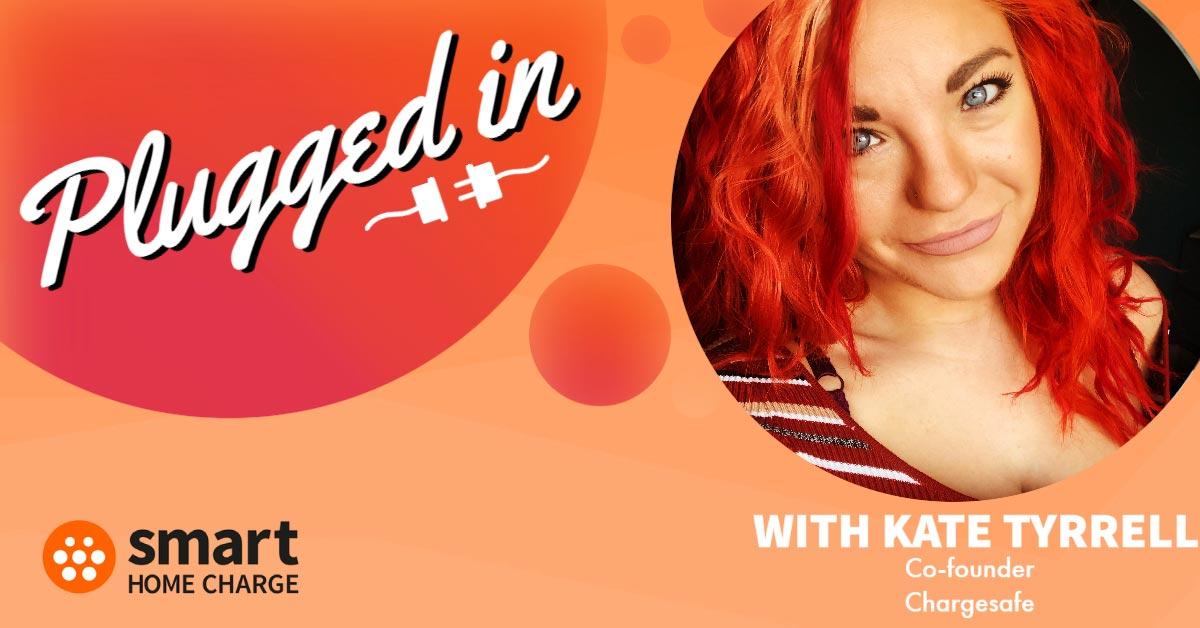 ChargeSafe is on a mission to make sure the UK's public charging infrastructure takes safety and accessibility seriously as it continues to rapidly grow.
The business was created in November 2021 after co-founder Kate Tyrrell had an "abysmal" charging experience driving her electric vehicle (EV) on a 400-mile round trip.
She said: "I got myself into a position where I had to use a charger at about 11:30pm and it was in a particularly dark corner of a car park.
"I was scared. It doesn't matter how many times you go on Twitter and tag a charge point operator (CPO), there is just no collective way to bring them all into one room and say - we need to do something about this."
Tyrrell and co-founder and chief technology officer James Coyle have created a public electric vehicle (EV) charging endorsement body that independently inspects and rates locations across the UK out of a maximum of five stars.
The concept is driven by the concerns of electric vehicle drivers and it aims to make sure personal safety and accessibility are seen as a priority to CPOs, landlords and local authorities.
Get £5 free charging
Get £5 worth of free charging at Octopus Electroverse supported charging networks when you sign-up using our link
The biggest influence behind a five-star ChargeSafe rating

The biggest influences on a ChargeSafe score include where the charger is placed, how well-lit it is, whether it has CCTV coverage and if the charging bay is wide enough that a person with a disability can use it.
ChargeSafe ratings will eventually be integrated with network mapping websites so drivers can easily review the better-rated locations.
Companies like Osprey, Fastned and 3Ti have all subscribed to ChargeSafe's data so far and it means their networks will be rated so they can see where they are currently, but also use that information to plan for future expansion.
Currently, almost one in 10 new cars in the UK are bought on behalf of disabled people.
With the ban on the sale of new petrol or diesel cars just seven years away it is essential that the UK's charging infrastructure is accessible for all EV drivers.
The biggest failings so far

Tyrrell explains that when the public charging networks first set out to get contracts with land owners, they were "beaten down" by the landlords on pricing models and the placement of the chargers were perceived as an "inconvenience".
Tyrrell said: "The CPOs didn't have the clout at the time as the EV market was very small.
"So they were going cap in hand to landowners and it would very much become focussed on price alone."
EV demand is clearly a different story now, with the latest Society of Motor Manufacturers and Traders (SMMT) data showing EV is only second to petrol new car sales.
In Tyrrell's opinion, the biggest failings so far have been the positioning of the chargers at some sites.
In the worst scenarios, chargers are sometimes positioned right at the back of car parks or tucked away out of sight.
Tyrrell said some charge point installers have replied to ChargeSafe that some landlords have requested to put charging bays in the place of disabled spaces because the distance for cabling is shorter, which helps reduce the cost of infrastructure investment.
She said: "Replacing disabled bays for EV charging is horrific and it's another example of how cost is impacting decisions on infrastructure roll-out.
"Lighting and security is really important too. I find it hard to understand why these charging assets aren't better protected. CCTV needs to be pointed at the charger, not just for the safety of the driver, but we've also had reports of cables being cut for people to strip the metal."
Want to know more about public charging?
Learn more about the different types of public charge points and how to use them in our guide to public charging
A comprehensive inspection criteria

ChargeSafe has expanded its inspection criteria to the point where it now looks at over 140 different items. This helps to provide granular feedback for the CPOs when reviewing their networks.
The inspection focuses on four key measures like the environment the charge point is located in, nearby facilities available to the site, the overall functionality of the charge points and accessibility to the site and charge points.
All inspections are verified by a third party, to ensure accuracy and that the assessment has been conducted without compromise and bias.
Any EV driver can register to use the ChargeSafe portal too.
Drivers can register their feedback about where they're charging and anything that's rated as below three or lower is flagged as a priority for an inspector to visit.
It's a much shorter 10-point questionnaire and real-world rewards like charging credits, tee shirts and caps can be earned by helping review more sites.
ChargeSafe's commitment is that no CPO, land owner or location can compromise the inspection outcome.
The organisation does not accept additional income from invested parties, with the exception of a network subscription fee, whereby the detailed inspection data can be purchased to understand what challenges and opportunities are posed, to make improvements to specific sites.
ChargeSafe's accessibility criteria has been developed in line with the draft PAS1899 British Standards Institute (BSI) standards for accessible charge points (co-sponsored by Motability and the Office for Low Emission Vehicles).
This BSI standard covers the design and placement of charge points, including the location spacing and surrounding environment, as well as the information, signals and indicators to be provided.
Tyrrell said: "The big change to expand the ChargeSafe review criteria came when the PAS1899 was published. We anticipated it would impact the way we do our inspections, but we had no idea how much more in-depth we would need to go.
"We will revisit the question sets as changes are made to the PAS document.
"It's an ongoing process but any future changes to the criteria set will have to be put down in writing and presented and agreed upon before they're implemented and that will happen annually."
Compare rapid charging costs
Compare the charging costs of the UK's most popular rapid charging networks using our rapid charging cost comparison tool,
Quick fixes to improve safety and accessibility

Tyrrell acknowledges that there's not much CPOs can do about chargers that have been installed in poor locations.
However, she hopes improvements can be made by installing lighting, or better lighting, adding CCTV coverage and removing kerbs to help with accessibility.
Tyrrell said: "Can you build an accessible pathway or a well-lit pathway to the charger?
"I know from speaking with some businesses that they're working on a solar-powered lamp solution with a battery that will always be functional and won't require its own grid connection."
More charging networks to be rated on safety and accessibility

Tyrrell said ChargeSafe is in the process of fundraising to increase its team of inspectors.
She is expecting more networks to subscribe to ChargeSafe's data this year, but says some of the larger networks are proving more difficult to engage.
She said: "The larger charging networks seem to have a widespread strategy to acquire land and build as many units as they can.
"While I acknowledge that we need the volume of chargers, it's usually at the detriment of wider bays and sensible placement.
"I would say generally some of the larger networks view our work as more of a marketing exercise and less of an operational and strategic arm to their new site acquisition and their current improvement plans, which is quite frustrating."
ChargeSafe is being embraced by the smaller networks and European brands.
She said that "without a doubt", better considerations on safety and accessibility can slow down infrastructure delivery, but if the UK's public charging infrastructure is going to expand, why not do it in the right way?
Tyrrell said: "We could have millions of drivers needing to charge on the go that will be put in vulnerable positions in dark car parks.
"When you fill your car up with petrol or diesel it's beautifully lit, there are usually other drivers around, or people working at the station, as well as cameras. That's not always the case when it comes to EV charging.
"Why can't we have higher standards for charging?"
Minimum standards for public charging

ChargeSafe is lobbying to make elements of its inspection mandatory in the UK.
Tyrrell is hopeful that some mandatory standards like lighting and CCTV coverage will be made law before 2030.
She said: "We're hoping to do some more work on this in 2023, just to highlight with the UK government to have a minimum standard.
"Everyone is just doing their own thing right now and the PAS standard and the ChargeSafe inspection is really the only thing that's close to guidelines.
"It's an emerging market and we all have lessons to learn, but there needs to be consistency in the industry."
The best public charging sites in the UK so far

Tyrrell would like for all charging sites in the UK to be rated a minimum of 3.5 or higher.
She said the best sites ChargeSafe has visited so far include Fastned's ultra-rapid location in Hamilton, Scotland, Gridserve's Electric Forecourt in Norwich and Osprey's Salmon's Leap site in Devon.
Tyrrell said: "They're really flying the flag in terms of what destination charging locations can offer."
"The utopia for me personally is to always have a minimum of five DC rapid chargers and then I think we'll need to ramp that minimum up to 20 in the coming years.
"Having facilities linked with charging is always great too. The sites that are built specifically for EV drivers are always the best sites."