Best home EV chargers UK 2022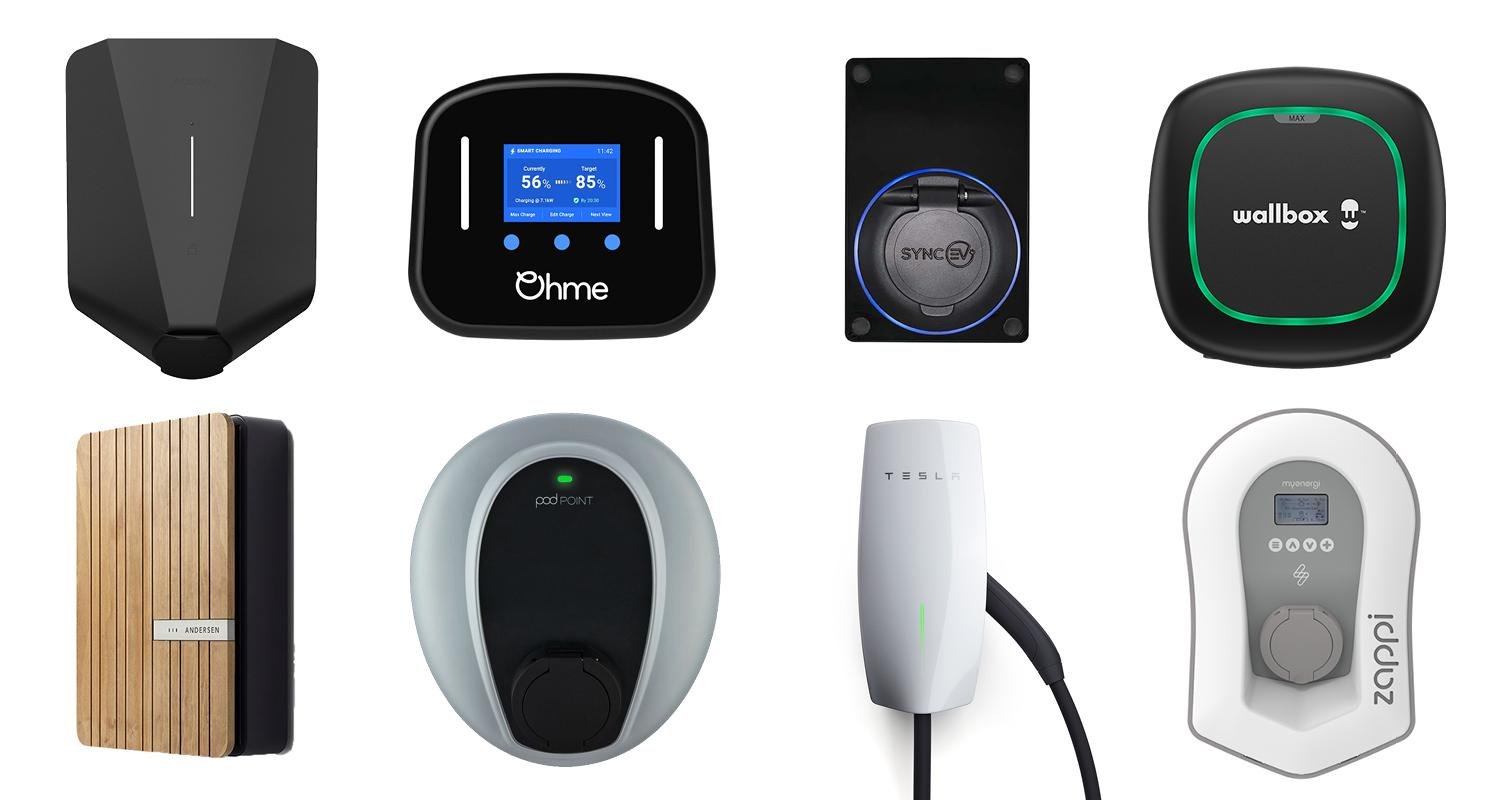 Test driving and selecting your brand new electric car is undoubtedly exciting, but after you've chosen comes the "admin".
Not only will you need to arrange the finance and start paying for your car, but you'll also want to choose your home charger and start the installation process, so you aren't stuck slow charging with a three-pin plug.
But where do you start? We have some expert advice and tips when it comes to choosing a home charging point, but to make things even easier we have listed our favourite EV home chargers. They all have their merits, so read on to find out which charge point is best to fully charge your car.
Do you need a special charger for an electric car charging at home?
In short, no. You can use a regular three pin plug, but it will mean your car charges very slowly, which is why most opt to have a dedicated EV charger (sometimes known as a wallbox charger) installed.
Arranging a charge point installation will result in a faster charge for your EV, plus a dedicated home charger will usually have additional safety features built in.
Another benefit is that smart home chargers, like those we list below, also allow you to set up scheduled charging for added convenience as well as helping you to track the running costs of your electric car.
You can learn more about the advantage of having a smart home charging point installed in our guide on how to charge an EV at home.
How much does it cost to install an electric car charger?
Costs for a home installation for a car charger vary depending on the charge point you select and the complexity of the installation itself.
Typically, you'll want to budget upwards of £700 for the installation process including the charger itself.
We offer a range of options to help spread the cost including Klarna and PayPal, so you can charge now and pay later or pay in monthly instalments.
Learn more about the installation process and the costs in our guide to charger installation.
Best home EV charger - our favourites
So, which electric vehicle charger should you choose? We've picked a handful of the best home EV chargers.
This isn't an exhaustive list of smart EV chargers, but we've chosen the ones we either have first-hand experience installing or other smart chargers that we know very well.
We'll highlight the pros and cons to each without overloading you with detail. You'll also find a link to our in-depth reviews where we have them.
Easee One
Pros:
- Use as tethered or untethered
- Built-in PEN fault detection - no need for an earth rod
- Stylish and lightweight design
- Simple app with enough smart charging features for most

Cons:


- Lacks some more advanced app features
- No solar surplus energy function
The Easee One is our recommendation for most electric car drivers wanting a home EV charger. It is quite simply one of the best EV home chargers on the market today.
Easee heralds from Norway originally where it is market leader and it has brought that success to the UK, quickly becoming our most popular charger.
Its primary USP is the ability to work as an untethered (socket only) or tethered device (cable attached) at the touch of a button. So whether you prefer the convenience of tethered chargers or the neatness of an untethered unit, the Easee One has you covered.
This has the added benefit of being able to charge all electric vehicles, so long as you insert the relevant charging cable.
The Easee app is also one of the easiest we've used. It's ideal for those who want a simple-to-use charge point, but it includes enough smart charger features to please most drivers.
READ OUR FULL EASEE ONE REVIEW
SEEN A CHARGE POINT THAT YOU LIKE?
With the exception of the Zappi, all of the charge points on this list are available to purchase and install.
Browse our range of home chargers
and click "request a quote" to get started.
Ohme Home Pro
Pros:
- Most advanced app software on the market
- EV charger screen offers user friendly alternative to app
- Built-in PEN fault detection - no earth rod required
- Automatically synchronises with your energy tariff
- Best charger for tariffs such as Octopus Agile
- 5-metre tethered cable

Cons:


- Design lacks style of some competitors
- Some features not compatible with all vehicles
- Tethered version only - no untethered EV charger option available
The Ohme Home Pro offers one of the most sophisticated charging experiences available today.
The brand is known for its unique app software which can integrate with your energy tariff to automatically charge your car at the optimum time, such as charging your vehicle overnight when the electricity rate may be cheaper (tariff dependent).
Like other smart EV chargers, charging at cheaper rates can save you hundreds on your energy bills across the year, but the Ohme Home Pro takes away some of the manual process of setting up a schedule.
Some drivers may enjoy using the screen on the front of the Home Pro unit itself, so you aren't forced to use the smartphone app if you don't want to. Alongside the Easee One, it's one of our favourites and one of the best home EV chargers today.
READ OUR FULL OHME HOME PRO REVIEW
Sync EV
Pros:
- Small and lightweight home EV charger
- Untethered - universal charger works with all electric car makes
- A lot of smartphone app features including scheduled charging, power output management, price tracking
- Works with Octopus Agile
- Built-in PEN fault detection - no earthing rod required

Cons:


- App not as refined as it could be
- No solar surplus energy function
- Sync EV customer service can be slow
Similar in style to the EO Mini Pro 2, the Sync EV also stakes a claim to being the smallest charge point in the world. Either way, it is one of the more discreet electric car smart chargers available particularly in its standard untethered form.
There is a tethered option available, but this removes one of the main plus points of the Sync EV - its small and lightweight design.
The Sync EV app offers a lot of features and settings, which is great for those who want this level of involvement and detail, but it does result in a slightly cluttered and clumsy app.
However, if you stick with the basic settings from day one then the Sync EV is a perfectly good quality choice of home EV charger.
Wallbox Pulsar Max
Pros:
- Stylish design
- User friendly app
- Choice of colours
- 5-metre tethered EV charging cable included
- Adjust charging speeds with power output control
- Built-in PEN fault detection

Cons:


- Bigger than previous Pulsar Plus
- Lacks some advanced features for the price
- Wallbox customer service very slow
Wallbox is a global charger brand based in Barcelona, with its Pulsar Plus unit being one of the most popular charge points in the UK.
It's easy to see why thanks to its smart design and straightforward smartphone app. It's a tethered charger that comes with a 5-metre cable, which itself feels higher quality than those you find on other products.
The app is basic, but intentionally so. The colourful and bold design means it's one of the easiest apps to navigate.
The Pulsar Plus EV charge point has since been replaced by its successor, the Pulsar Max. At the time of writing, we haven't got our hands on it but it retains a lot of the features of the Pulsar Plus while also improving the build quality and simplifying the installation process.
The Max is slightly bigger than the Plus, but the new matte look and new colours to choose from will help ensure it fits in with your property.
In addition, solar PV compatibility has been added to the Wallbox charger.
READ OUR WALLBOX PULSAR PLUS REVIEW
Zappi charger
Pros:
- Solar functionality at core of product
- Tethered and untethered options
- Built-in cable tidy
- Slick and sophisticated app showing solar and energy usage in home
- Built-in PEN fault detection - no earthing rod required

Cons:


- Expensive - especially if you don't have solar panels
- Bulky design and size
- Requires separate "hub" for smart functionality
The Zappi EV charge point from myenergi is synonymous with solar PV charging. While it is not the only car charger on the market to offer this anymore, it is the most well-known.
You can read what we thought about the Zappi overall when we tested it a few years ago, but it's the solar functions that elevate both the product itself and its installation cost.
Whereas some chargers offer "solar matching", and can be very useful, this is not to be confused with the surplus solar divert feature the Zappi offers.
With solar matching, the charger will simply monitor your home's solar output and then charge your EV with the equivalent amount of power. Crucially, this power could come from the grid as well as your solar - in other words, you cannot ensure your solar panels output is going directly into your car.
This is where Zappi and chargers like the Andersen A2 (plus others) differ. Instead, they actively monitor solar PV output (or wind) and divert any surplus energy from your solar array into your EV that would otherwise go back to the grid.
READ OUR FULL MYENERGI ZAPPI REVIEW
Andersen A2
Pros:
- Stunning design and range of finishes
- Superb cable tidy feature
- 5.5-metre cable as standard (with upgrade to longer cable available)
- Solar compatibility

Cons:


- Expensive
- Very large
- App lets it down, plus updates are sparse
If you asked Kevin McCloud of Grand Designs to design an EV charge point, he might well end up with the Andersen A2.
It's pricey, of course, but for the cost you do get to choose from a range of premium finishes including accoya wood.
The Andersen A2 has a very neat cable tidy solution, completely hiding the charging cable from view within the unit itself when it's not in use.
The Andersen is also capable of the same solar functionality as the Zappi, though this requires some extra kit.
The smartphone app, while perfectly useable, doesn't feel like it's cut from the same premium cloth as the Andersen A2 itself, which is a shame.
Aside from this, it's a high quality, beautiful looking charge point. If it's a premium finish you're after, then the Andersen A2 should be on your shortlist.
READ OUR FULL ANDERSEN A2 REVIEW
Pod Point Solo 3
Pros:
- Sleek and robust design
- Tethered and untethered options
- Well established EV charger brand
- Built-in PEN fault detection - no earthing rod required

Cons:


- Basic and limited smartphone app
- Expensive - similarly priced chargers offer more features
Pod Point is arguably the most well-known EV charging brand in the business. It was one of the first ever home charge points for electric cars to market and it also operates a range of public charging points.
The Solo 3 is the successor to the original Solo from Pod Point. It brings with it a refreshed design, built-in PEN fault detection and improved build quality.
It includes a 4.8m cable as standard if you go for the tethered Solo 3, but you can opt for the untethered version which will work with all electric cars as you can plug in both Type 1 and Type 2 charging cables.
The app allows you to set up schedules for charging to coincide with cheaper electricity rates (tariff dependent) and therefore lower your car charging energy bills. Aside from this, though, the Pod Point app is pretty basic and lacks the features that some other chargers like the Ohme Home Pro offer.
Full review coming soon.
Tesla Wall Connector
Pros:
- Sharp design
- Quality build
- Built-in cable tidy
- Remote unlock Tesla vehicle charge port
- Easy-to-use Tesla app

Cons:


- Expensive
- No built-in earthing protection, requiring separate earth rod installation
- Must be sourced directly from Tesla before installation
The Tesla Wall Connector is now on its third generation, having received a visual overhaul and some hardware tweaks.
While the Tesla EV charge point can be used for other electric cars, it is primarily aimed at Tesla drivers.
It looks good, is sturdy and well built, and includes a button on the charging plug to remotely open the charge port on your Tesla vehicle.
You'll also need to source the Wall Connector directly from Tesla, rather than via your installer.